There are a number of Peruvian restaurants in Geneva at this point, and they're such a welcome addition–many of them are really good, too. Peruvian food is AMAZING! However, the best, by far, is Yakumanka, located in Mandarin Oriental. Expensive? Sure, but easily one of my favorite spots!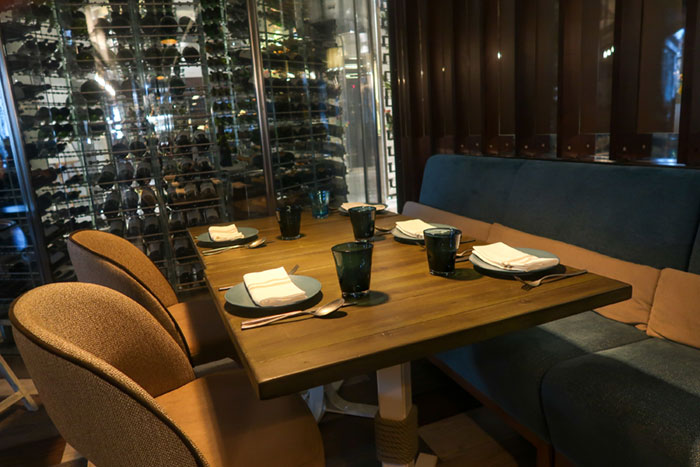 First of all, I love the décor, it's cozy, modern and stylish all at the same time. They definitely did a great job in that regard.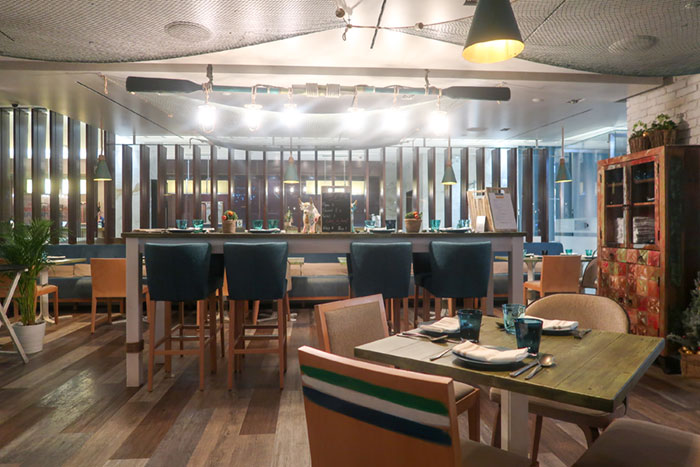 Depending on where you're sitting in the restaurant, it feels like you're out by the sea (when you're actually close to a river at best). I love it!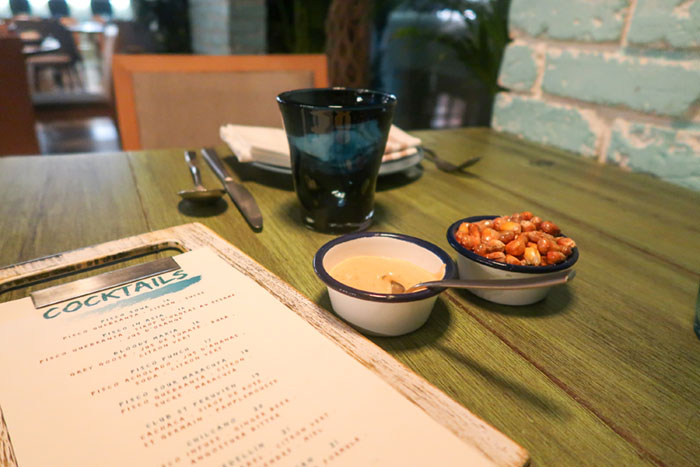 First they bring you the cocktail menu. Do you like to have a cocktail with your dinner? You'll love the selection At Yakumanka.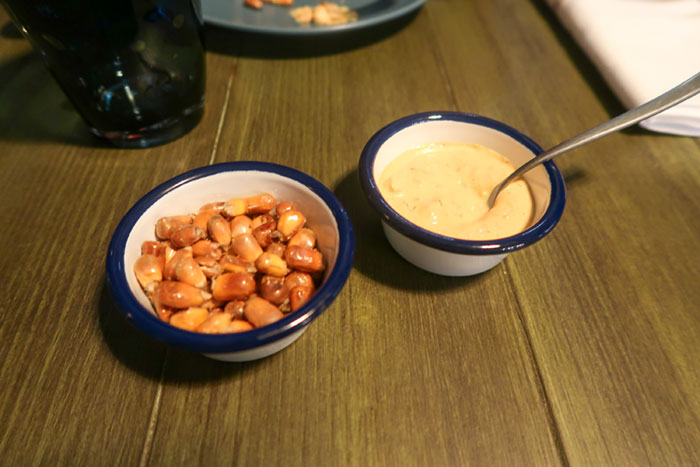 A little cocktail snack that comes with a spicy mayo dip. Really addictive!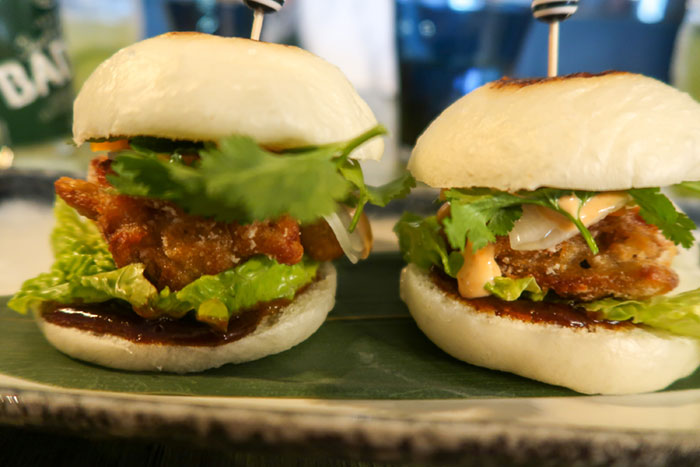 And now, probably one of my very favorite items on the menu, the fried chicken sanguche… I mean where do I even start?! First of all, yes, I get it every single time. I know I might be missing out on some other mouthwatering starters, but I am more than willing to make that sacrifice, if I can get me some of this goodness.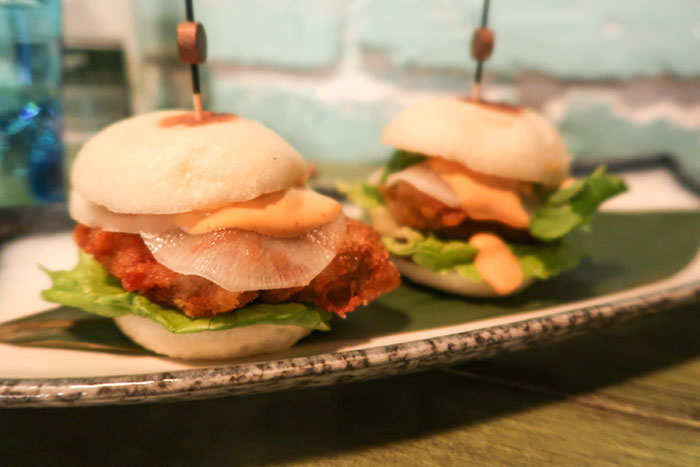 The bao-like bun works perfectly with the fried chicken, the pickled daikon and the perfect spicy mayo that brings it all together. PERFECTION, my friends!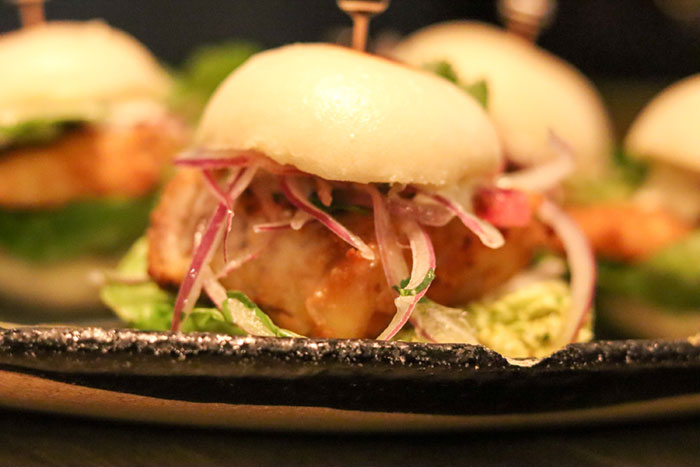 So the last time I was at Yakumanka's, they didn't have fried chicken, so we were given a fish sanguche instead.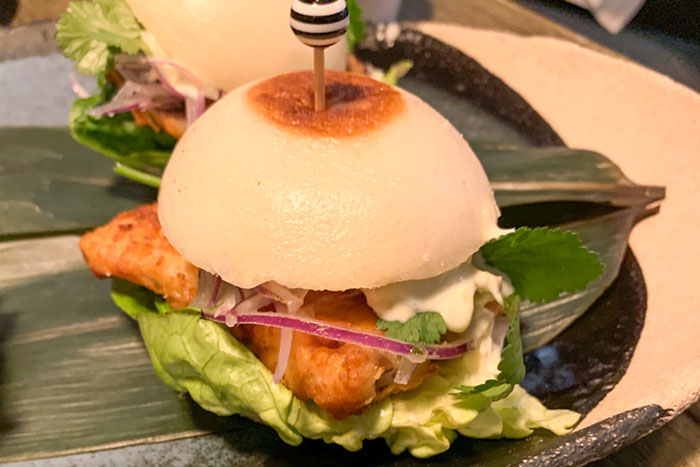 Now it was definitely very good, don't get me wrong, just maybe not as crazy good as the original fried chicken I usually get.
One other fun thing about Yakumanka is their menu changes all the time. I noticed there are some permanent fixtures (lucky for me, the sanguche seems to be one of them) but other than that the main dishes seem to be swapped around regularly. I had this arroz dish the first time I was there. Somewhat similar to a paella in flavor and consistency but they had topped it with duck. So good!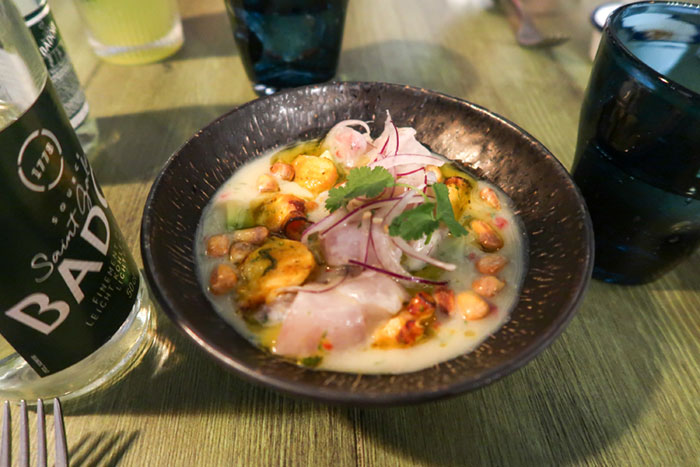 My friend had this ceviche, and only had good things to say about it. I don't usually eat raw meat or fish, so I can't really say much more about that, but it looked good.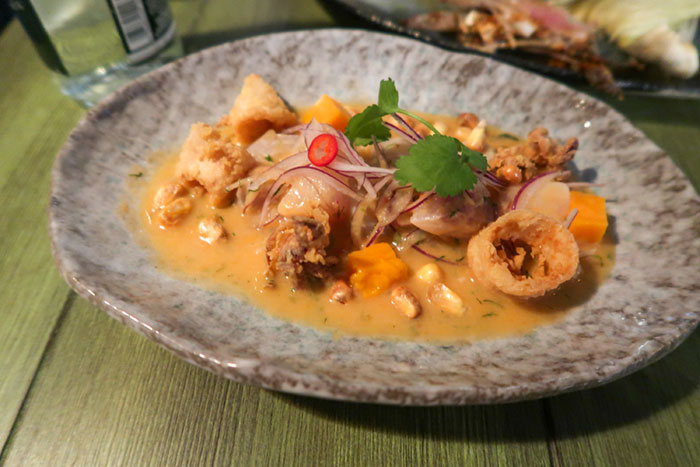 Different friend, different night, different ceviche. Same happy reaction though! This one came with fried calamari too, I did taste some of that. I love calamari!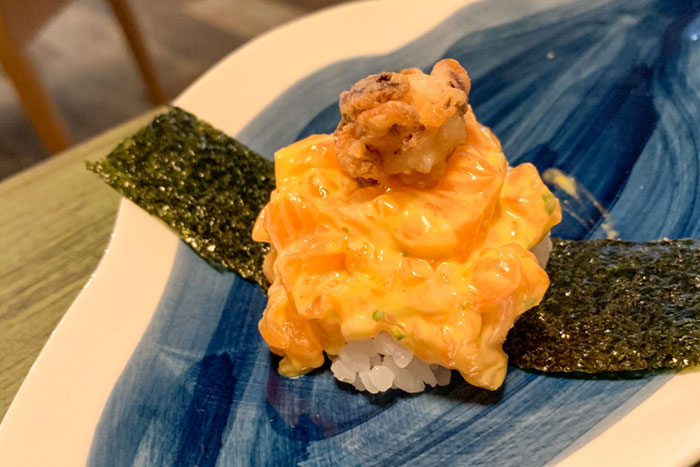 Different friend, different night… well… not a ceviche. This was a salmon sushi-like starter, and apparently, it was delicious!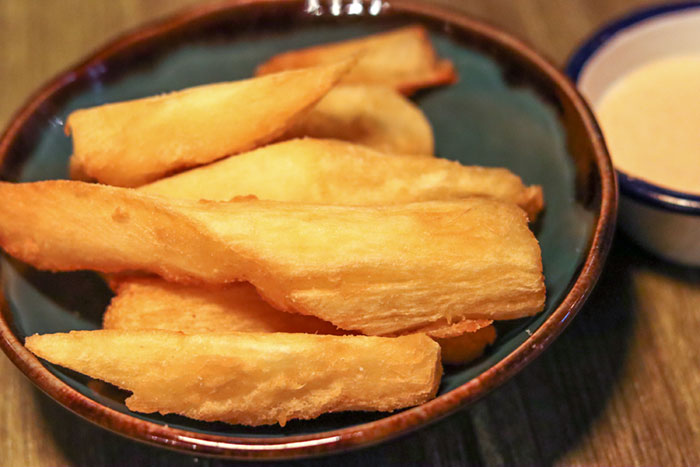 Yuca fries. Need I say more? To me, yuca fries are even better than regular fries and that's just a fact! I still love regular fries though…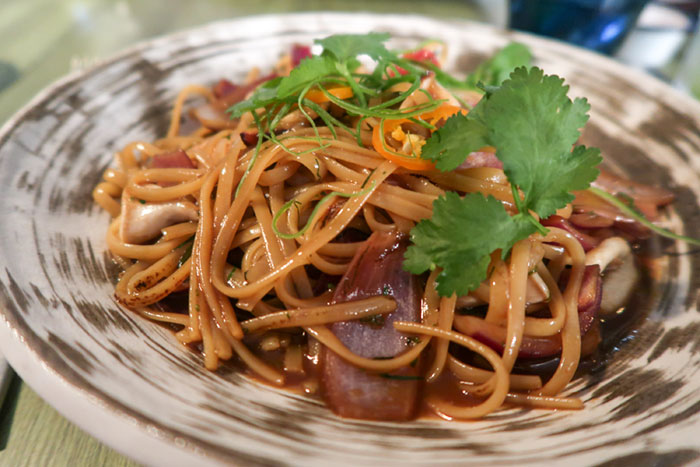 OK these seafood noodles. Some of the best noodles I ever had! I don't know how they manage to give them that incredibly smoky flavor, but it just makes all the difference. As much as I love restaurants changing their menus often, I'm so sorry this dish is no longer something I can order. Please bring it back, you guys!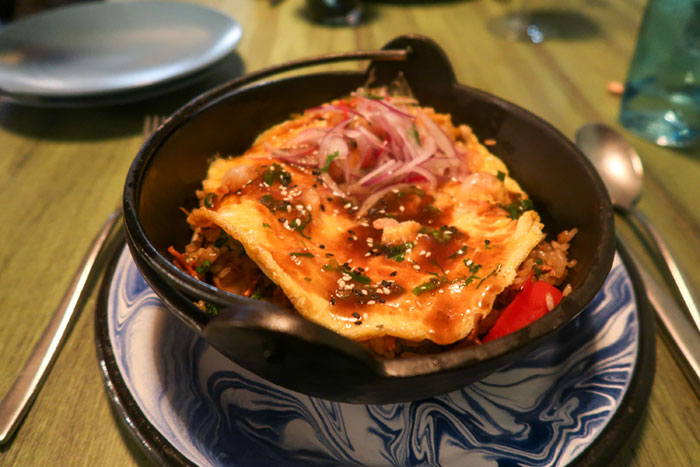 What have we here? What is below that fried egg?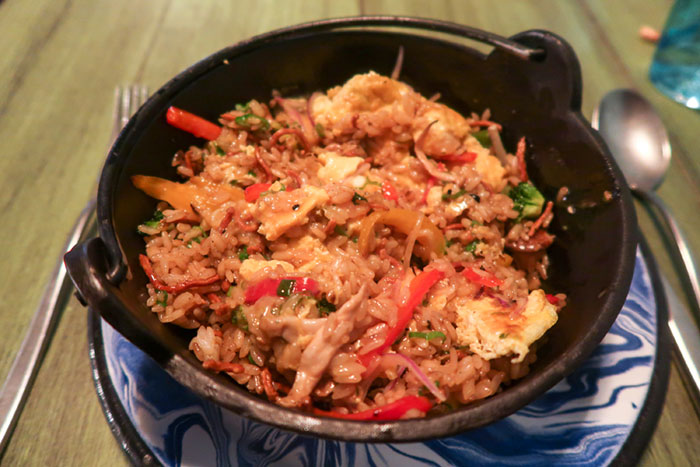 Yup it's a fried rice dish. Again with the smokiness. Again with the deliciousness. Again with the why is it no longer on your menu-ness?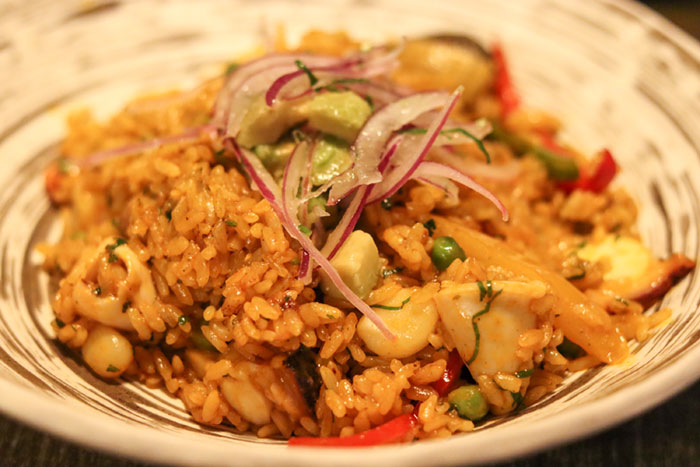 Another arroz dish. Seafood this time around. Yes very good. Everything is always very good at Yakumanka.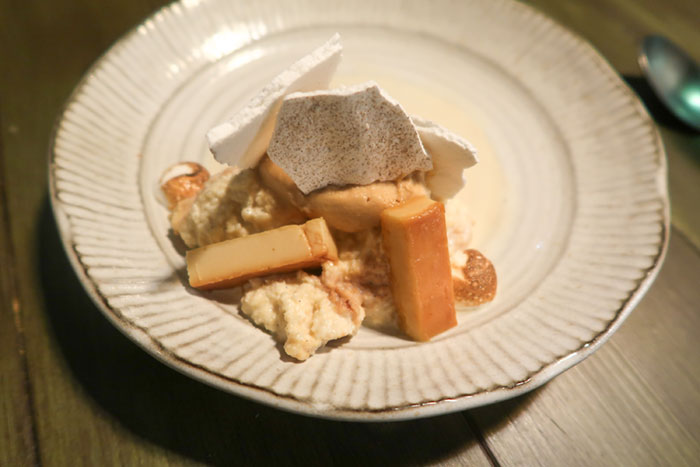 I always get the same dessert there. La lechera. It may not look like much, but what it lacks in visual appearance, it more than makes up for in flavors and textures. Yes it's definitely one of my favorite desserts in the city.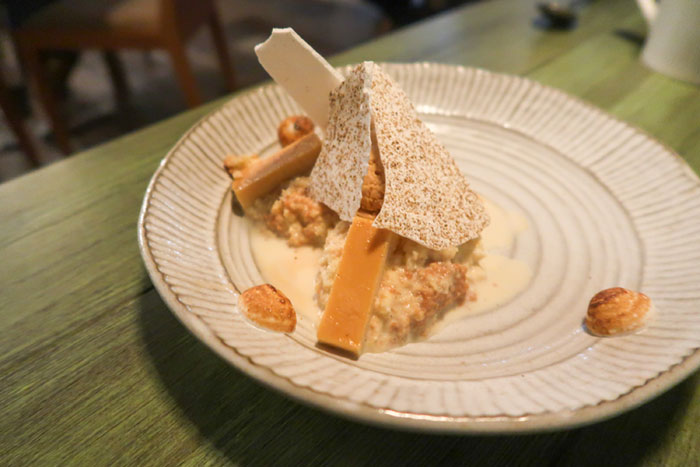 So what's in it? Coconut tres leches, meringue and dulce de leche ice cream. If love were a dessert, this could be it.
Please share your thoughts in the comments below, have you been to Yakumanka? Do you enjoy Peruvian food? What is your favorite Peruvian restaurant in Geneva?