Let me just come out and say it: I love Bombar! I love the food, I love the atmosphere, and also I love the food… or did I maybe already say that? Because if I didn't, let there be no doubt: I love the food at Bombar! Their menu changes, like, all the time! You'll defintely be looking at something new and different every couple of weeks or so. There are a couple of dishes that tend to stick around longer, but for the most part, every menu change is a rebirth.
They also have a list of awesome wines. Though I can't tell you a whole lot about that, I'm hardly a wine connoisseur, and I'll just drink whatever gets put in front of me (my request usually goes a little something like: "something that won't give me a headache, please?"). But anyway, if that's what you're into, I'm confident you'll find something to your liking.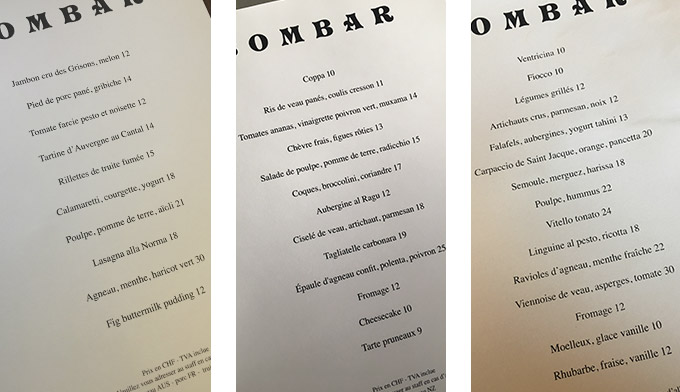 These are three separate menus from three of my past visits to Bombar, you can enlarge the image by clicking on it.
Now let's visit some of the dishes…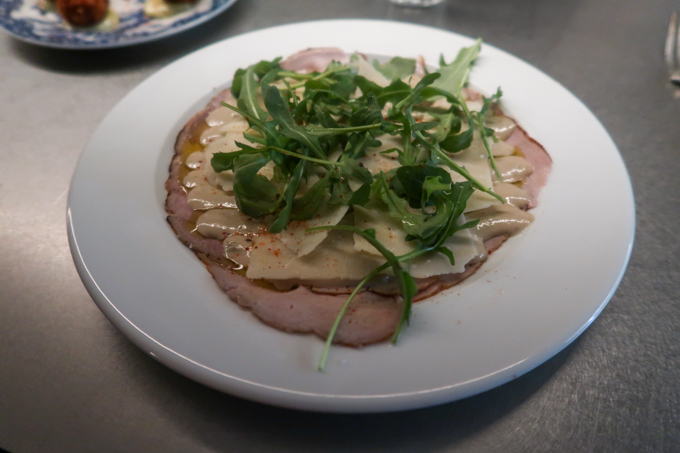 Vitello tonnato is a classic, but you know you're at a pretty great place when it's this fresh and delicious. I saw it on the menu a couple of times last spring, and I'd gladly order it again if they brought it back.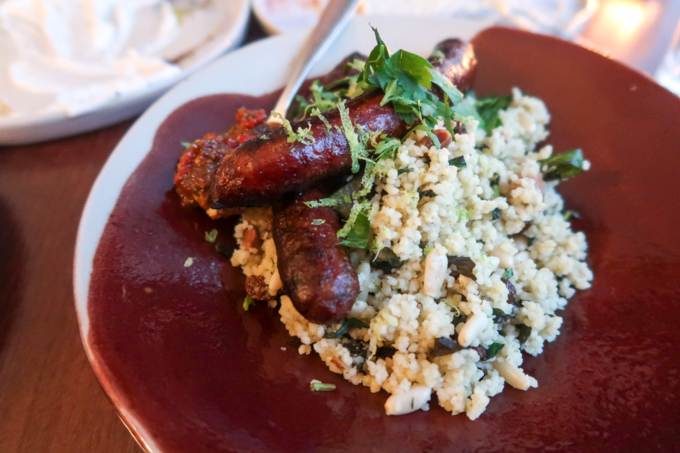 Bombar's menu draws inspiration from all around the world, and this merguez and couscous dish was definitely a nod to North African cuisine. I'll just say the homemade harissa was definitely not for the fainthearted!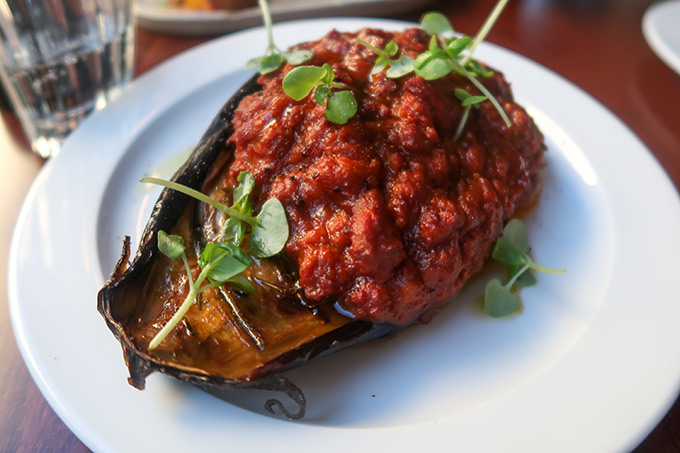 Eggplant ragu seems like a fairly simple idea, and yes it absolutely hit the spot. The eggplant was cooked to perfection, and the ragu was clearly cooked slowly, allowing the flavors to fully develop. A very hearty dish for the non-vegetarian.
Craving a little pasta?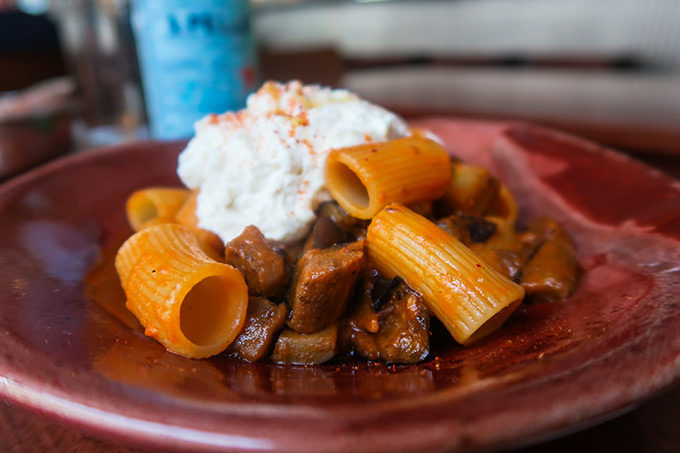 I can nearly still taste this perfect pasta alla norma as I look at the picture, and yet this was on one of my earlier visits to Bombar. So comforting and good!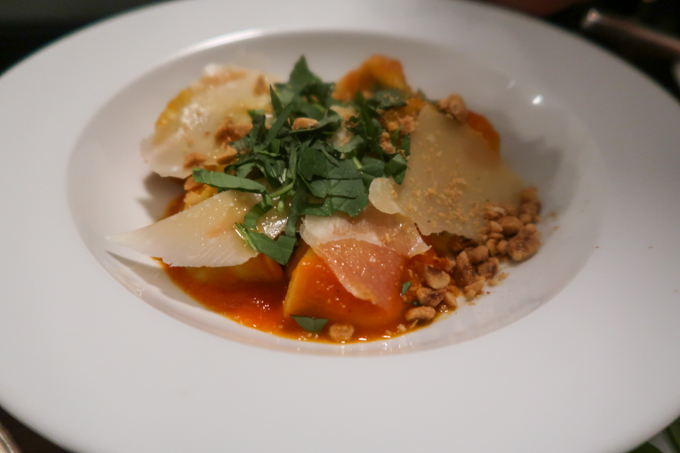 This delicate hazelnut-topped ricotta tortellini was everything. It didn't stick around for long because their pasta dishes do tend to change on a regular basis, but it certainly was melt in your mouth delicious.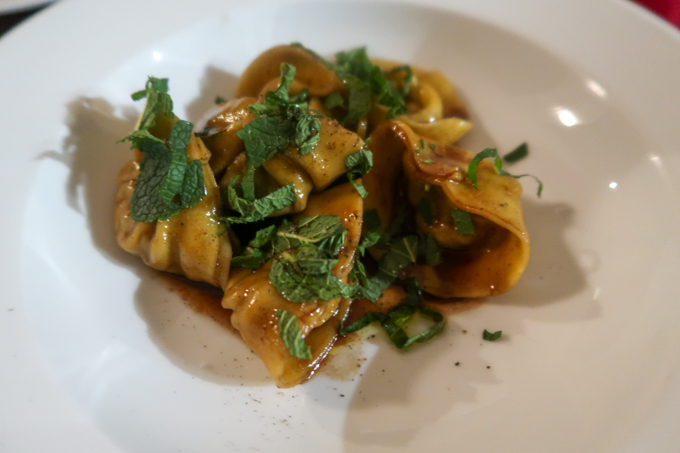 This lamb stuffed pasta was topped with mint. Again another unexpected combo that worked surprisingly well as far as my taste buds were concerned!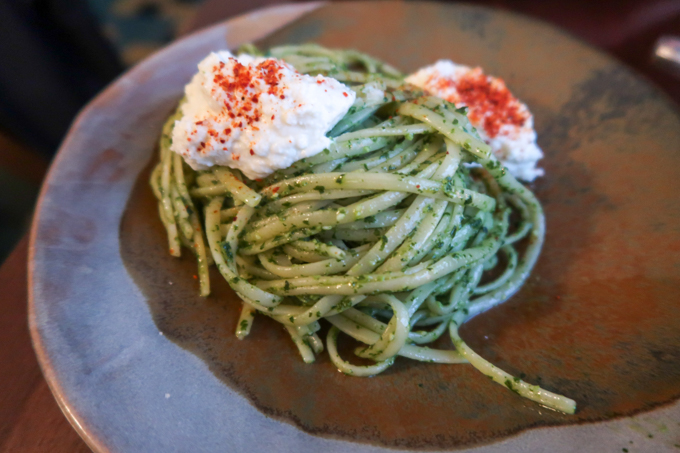 Another classic, if you like a good pesto and some creamy ricotta, this is a must-order dish!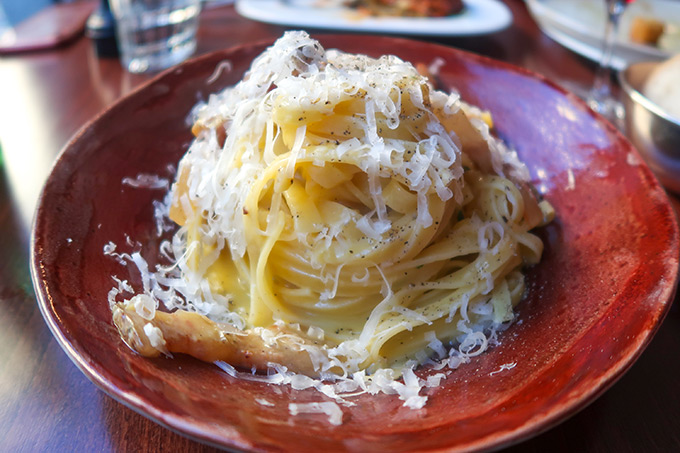 A simple carbonara, but what can I say? I'm still dreaming of this dish weeks after I had it. Easily one of the better carbonara dishes I had in Geneva. Not too eggy, very cheesy… PERFECTION, my friends!
Or how about a few fish and seafood dishes?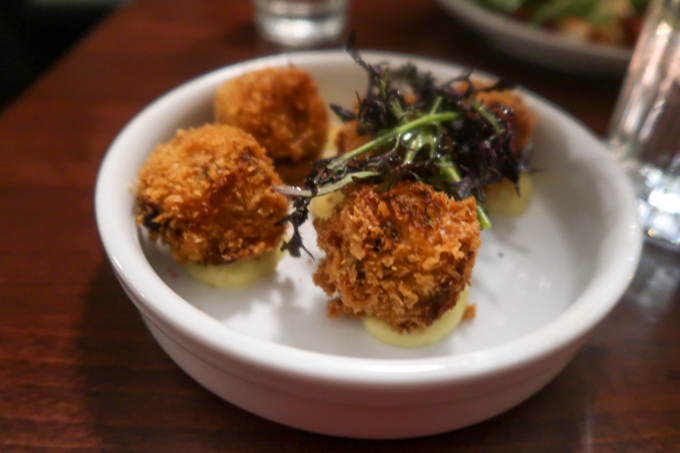 Oh man, these cod fritters were really something! They were definitely one of the menu items that stuck around for a longer time, and I was sure to order them every chance I got! DELICIOUS! Usually served with some of their own aioli, which is just so satisfying – unless of course you don't like garlic… yeah I know a couple of those.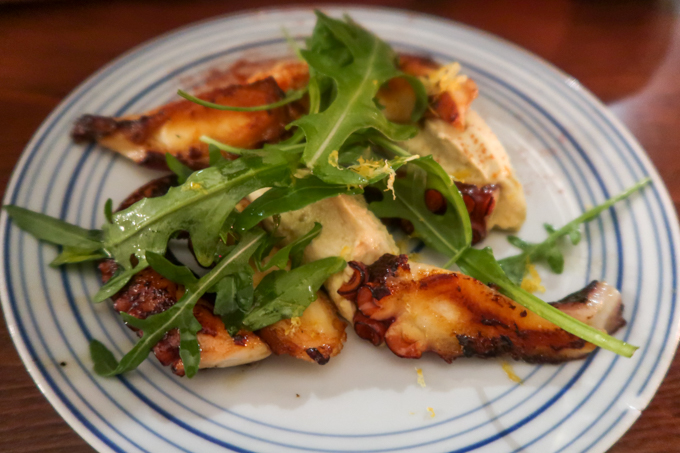 Octopus and hummus is something of an unlikely pairing and the first time I was told about it, I was a little thrown off, only to try it and realize how perfectly these two ingredients work together. This, too, stayed on the menu for quite sometime, and yes, this, too, was something I often ordered. Actually I wish it would make a comeback!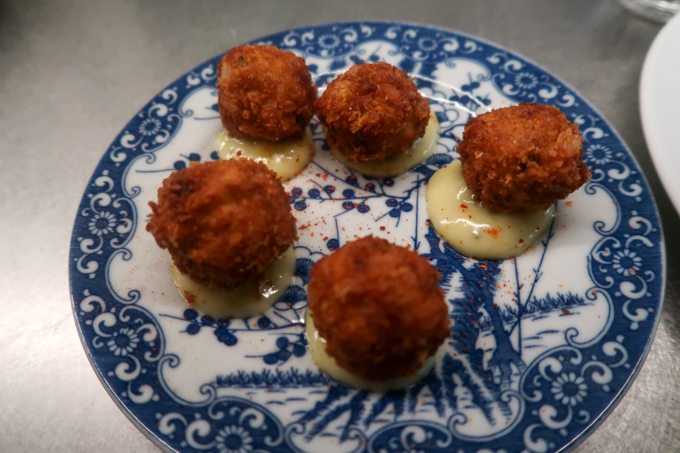 More cod fritters? Yup, yup! Told ya I like to order them every chance I get.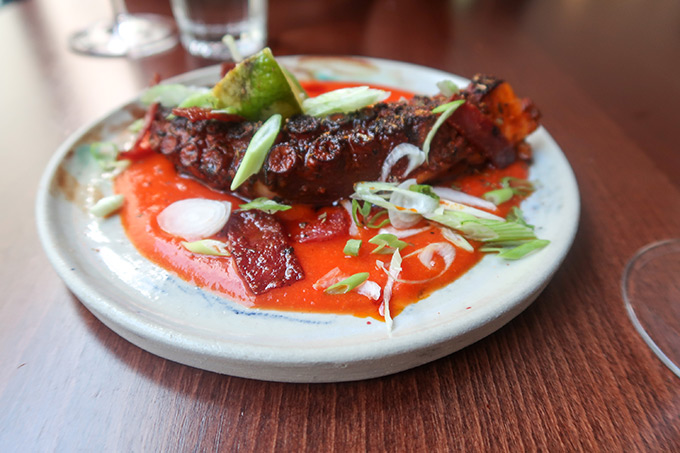 They love their seafood at Bombar, especially octopus, and you know what? So do I. This paprika marinated dish packed a little heat and a ton of flavor.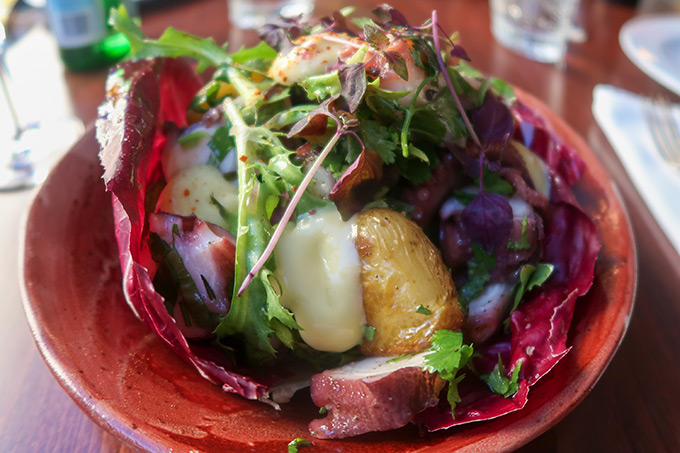 One of my favorite things about Bombar is the unexpected combos they come up with, and how they somehow always make them work. Octopus and roasted potatoes wouldn't naturally occur to me, but to the folks over at Bombar, it apparently seems obvious. And yes it was delicious. Though let's be honest, I gifted my radicchio to my friend because no matter how much I love Bombar – come on, people, that's just not going to happen.
Save room for dessert though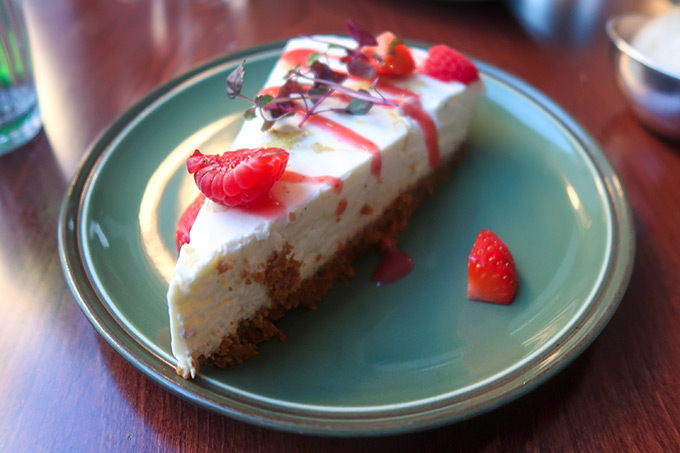 Now let's get to the dessert segment of this little post. I mean, come on, my little foodies, we all like to indulge in a little sweetness, don't we? Actually a bunch of my friends don't care for dessert at all. But I'm team sweet tooth all the way, and I'm assuming you are too! So let's kick things off with this fresh, light cheesecake. Another classic, but what's not to love? I like a light fresh fruit topping rather than the overpowering berry sauces they tend to be fond of here. So the way Bombar made it definitely suits my taste buds better.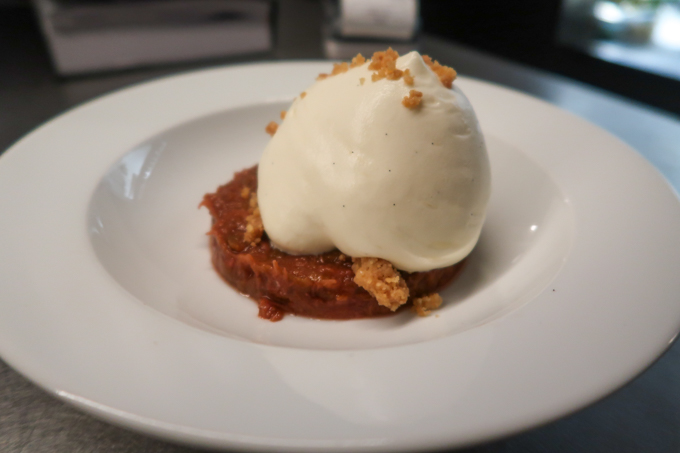 This was a strawberry rhubarb dessert topped with something midway between cream and ice cream, hard to describe but very satisfying if you're into that kind of thing!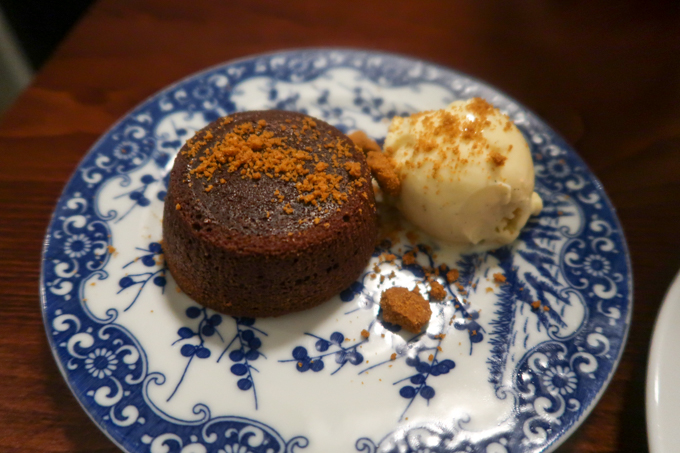 Moelleux au chocolat is a classic, and yes it was very good, though no I'm not a huge lava cake fan so, while I did enjoy this… well… let's just say I saved the best for last, so please read on.
And now for my very favorite dessert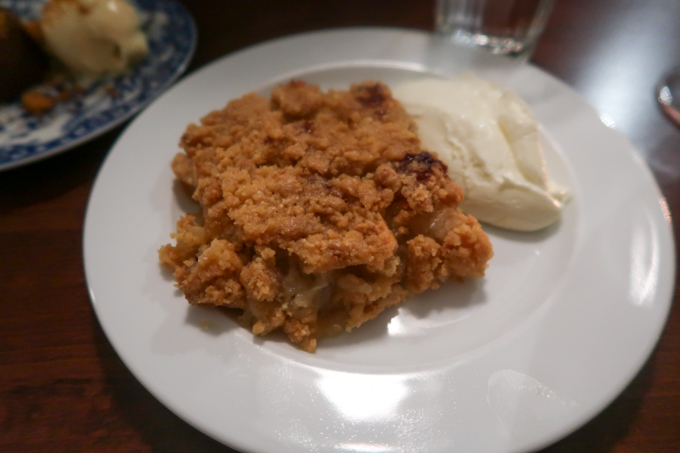 OK so I had this apple crumble the very first time I went to Bombar, and it was something of a spiritual experience. Who knew something so basic could be so unbelievably good? Not I! Maybe it had something to do with the buttery crumble, or the clotted cream (at least I think it was clotted cream), but it's several months later, and I'm still dreaming of this apple crumble and I keep hoping they bring it back soon… like really soon, please, Bombar! So yeah… if I haven't made it quite clear enough, this was easily one of the best desserts I ever had, and Bombar is just as easily one of my very favorite spots in all of our little city of GVA! Check out and let me know what you think.