They say if it ain't broke, don't fix it. Geneva's food scene seems to have taken that maxim to heart since for the most part, it tends to replicate other popular restaurants around the city. If people are into burgers (bet you didn't see that example coming, did ya), expect burger joints to flourish all around the city. Enjoy a good bowl of noodle soup? Numerous ramen shops are happy to serve you some hot noodle goodness in a not too distant location. Craving a good slice of pizza? Well let's hope you're craving Neaopolitan pizza, because following Luigia's success over the past few years, most new pizza joints seem to have opted for this soft, chewy pizza style… now don't get me wrong, I love me some good Neapolitan, but how about we start specializing in some good ol' New York style pizza by the slice?
Anyhoo, Osteria Zaza – located in Geneva's Champel neighborhood – has now been around for a year or so, and it is no exception to the new rule. Not that there's anything wrong with that, mind you. Zaza serves up a delicious pizza not to mention their delectable pasta dishes. I have been to the restaurant numerous times, and I always look forward to having lunch there.
The décor is pleasant and quite modern, though if you're not sitting at a booth, the tables are a little close to each other.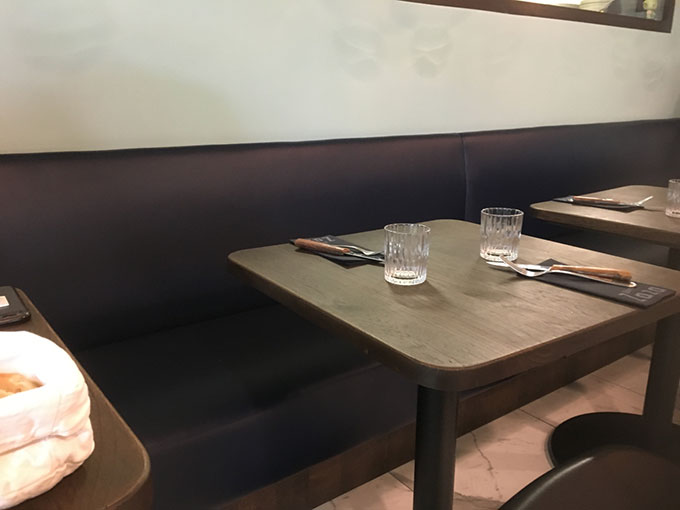 In the summer, there is a nice outside seating area, though last summer the view was somewhat obscured by some rather unsightly scaffoldings. But that's Geneva for ya… or pretty much any city in this day and age.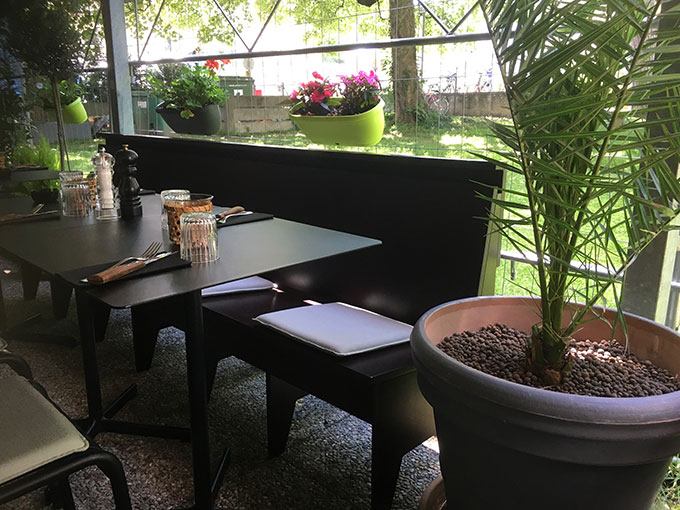 The bread is more than decent, not sure if they make it themselves or if they order it from a local baker. Either way, it's good.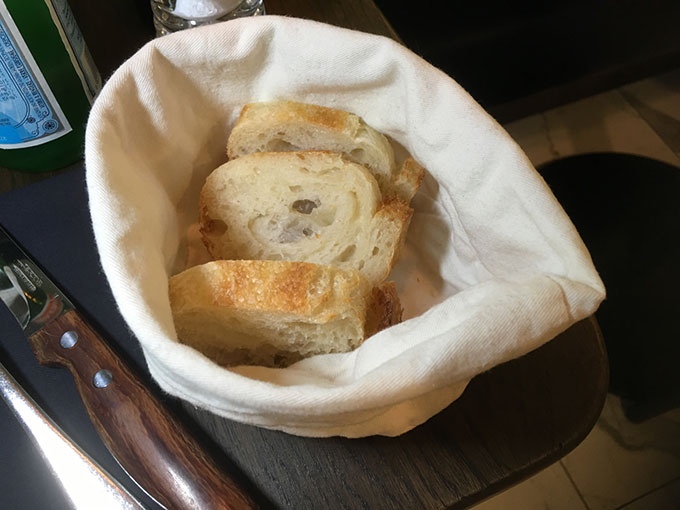 This starter is known as mozzarella in carrozza, it's basically fried mozzarella and I believe in Italy it's typically served as a sandwich, though at Zaza's, it's wrapped in batter. I don't believe this item is on their menu anymore, but I could be wrong. It was also served with bread and parma ham. It was definitely good, and pretty much worked as a full meal since following this up with pizza or pasta is a little much.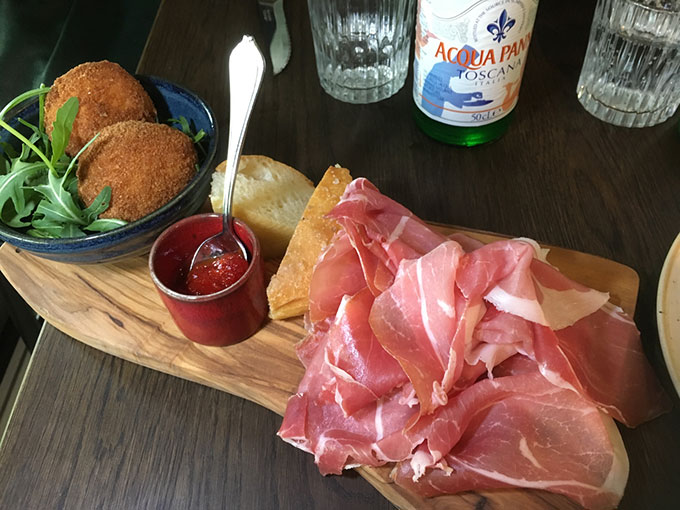 And now, what you came for, ladies and gentlemen, the Neapolitan pizza! Fresh ingredients, soft, chewy dough… what more could I ask for?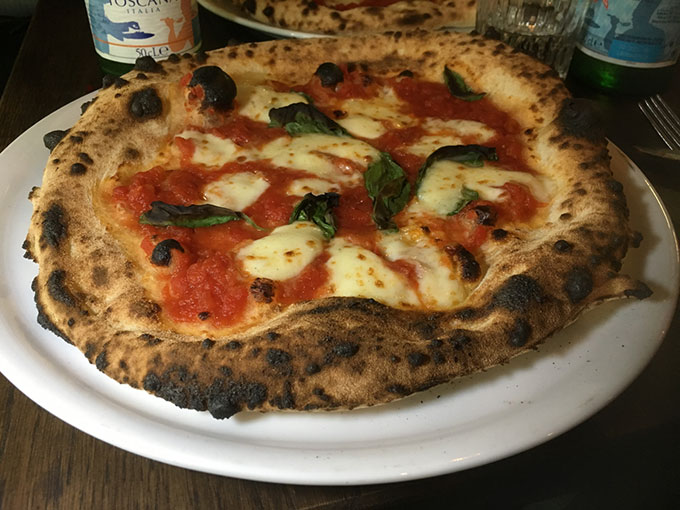 I always judge a pizzeria by its margherita. if they don't get that right, we definitely have a problem. No complaints here though… I enjoyed my pie!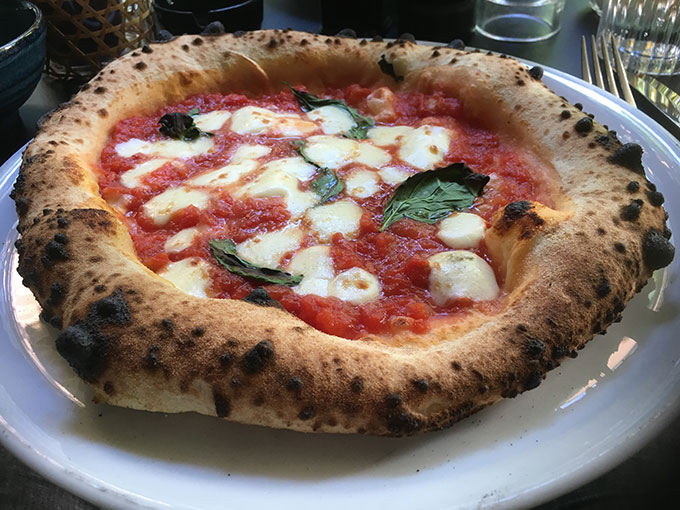 Of course sometimes you want to mix things up a little and you choose a rather unlikely combo off the menu. This was such a time, and I couldn't pass up trying a potato pizza at least once! Also sausage is one of my favorite pizza toppings, so I definitely needed to try Zaza's Il Cafone to see if this combo worked, and you know what, it wasn't bad, not something I'd order every day, but certainly worth trying. I didn't realize it was a white pizza until I got it, but I suppose given the toppings, it makes more sense not to add tomato sauce.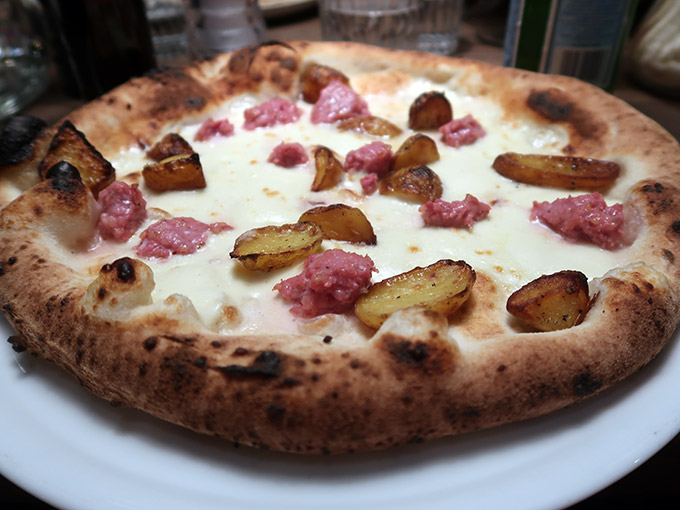 The Molise Connection pizza. This pizza was topped with pork sausage and caciocavallo, an Italian cow's milk cheese. I mean you can't really go wrong with those toppings, am I right?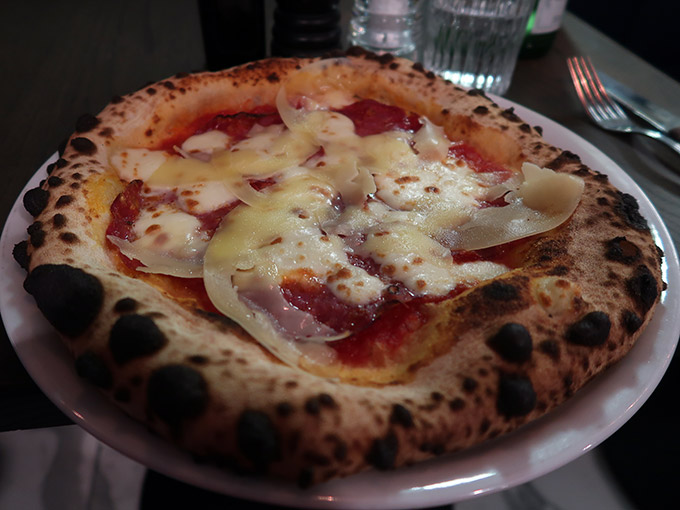 And now, my friends, we come to what is probably my favorite part of the Zaza experience, the pasta! Because – sure – you came for the pizza, but you'll stay for the pasta. That perfectly sauced, perfectly cooked Italian pasta. This is easily the best one I've tried, chitarrina abruzzese, Italian spaghetti and meatballs! There are not enough good things I could say about this dish! I just love it! Perfectly cooked comfort food is pretty unbeatable if you ask me.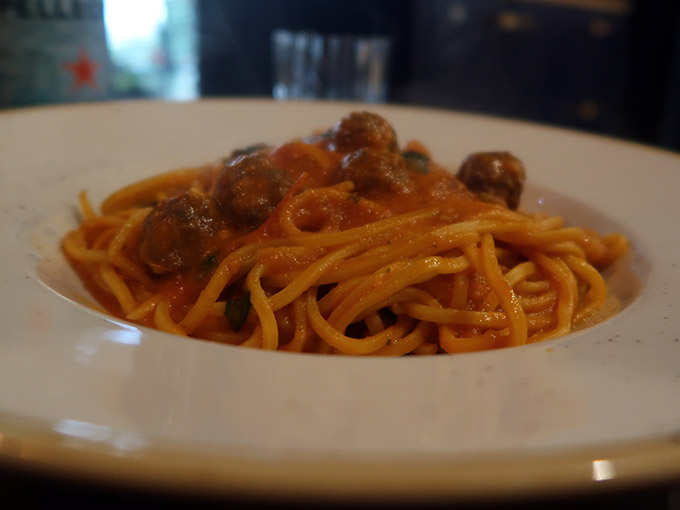 This was an oxtail tagliatelle dish. It was rich, and it was delicious! Again, I'm not sure it's still on their menu but as long as I can keep ordering my chitarrina abruzzese, I'm a satisfied, nay, an overjoyed customer!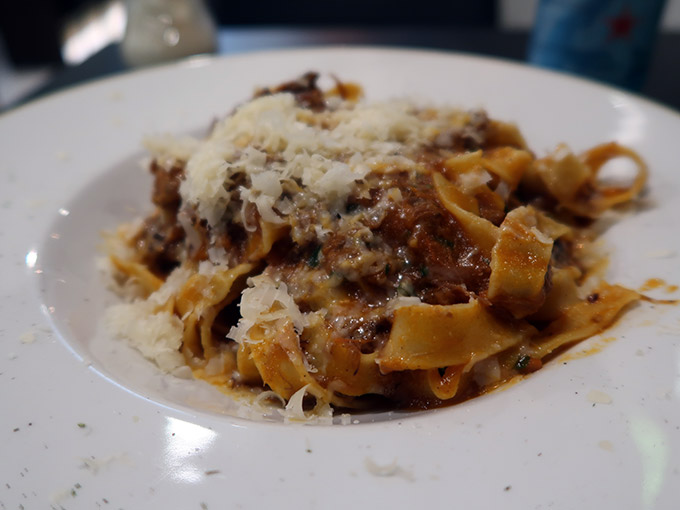 Don't forget to save some space for dessert! This was probably my all-time favorite dessert on the menu, they only seem to serve it in the summer though. Kind of like a cherry mille-feuilles. Everything was fresh, and worked perfectly to make a delicious, refreshing dessert… type… thing. Who cares?? I love this thing, I'm only sorry they won't be serving it this winter, but you've got to stay seasonal with your produce, so kudos to them!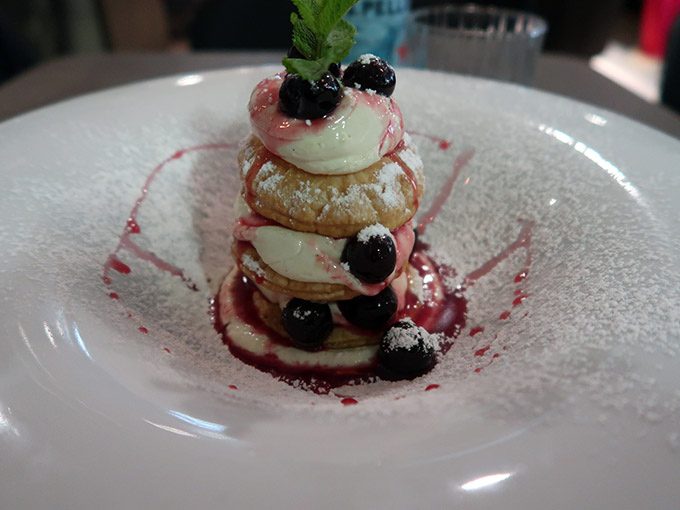 This dessert is known as a Crostatina della nonna. It is basically a berry pie topped with a scoop of ice cream. I would think this is a fairly universal concept. It's good but it's pretty rich.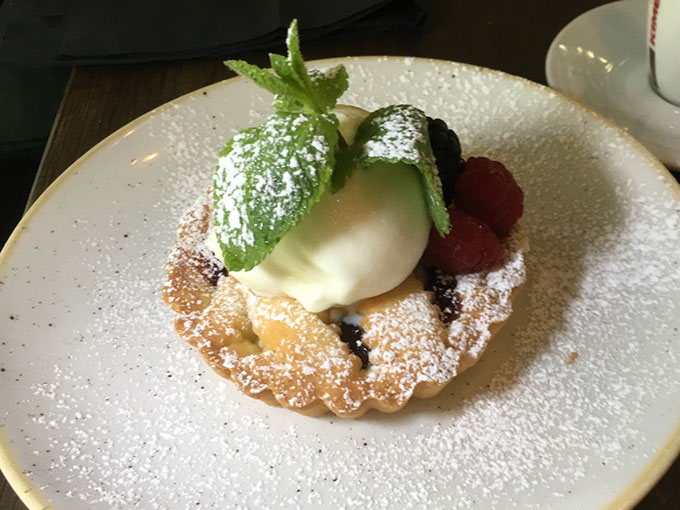 Tiramisu… need I say more? It's on every Italian menu in this city, and for good reason. This was a pretty solid tiramisu though I have to admit my favorite is and probably always will be Luigia's.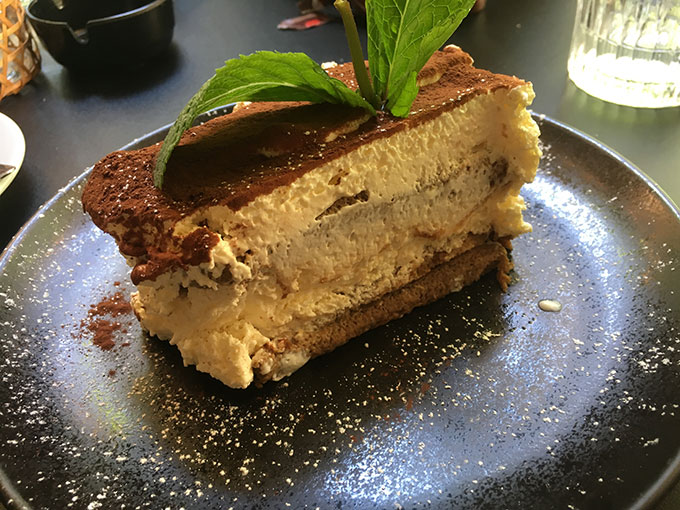 This seems to be a fairly recent addition to the menu, it is called Pastiera Napoletana rivisitata, and it is kind of a crème brulée, cheesecake type thing that is also flavored with orange blossom. Now many of my friends will run for the hills at the mere mention of orange blossom or rose water, but I love both, so just seeing either one of them listed as an ingredient in a menu item will make me want to order it. Either way, this was absolutely delicious. A hint of orange blossom and ricotta made this a light, airy dessert!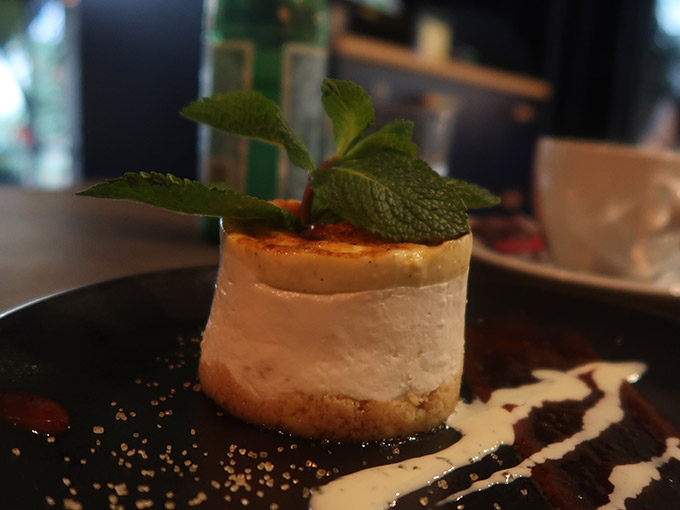 So that wraps up my Osteria Zaza review. I really enjoy my visits there, and the food never disappoints. It works especially well for lunch as far as I'm concerned as I'm often in that neck of the woods (or not too far) for work.
Have you been to Zaza yet? If so please leave me a comment to let me know about your experience and if you like their pasta or their pizza better.