In the past few months, it felt like every time I spoke to a friend or acquaintance, they would tell me some cool new restaurant just opened in some hip part of town. Now to be completely honest, many of these places are rather forgettable. However, occasionally a passionate chef opens an establishment that is truly worth a visit. Or, in Ciro Trattoria Gourmet's case, worth repeated visits. Indeed, over the past few months, I have had no less than five meals at the Paquis-located Italian restaurant.
I've been returning regularly not only because the food is really good (which it definitely is) but also because, Ciro, the restaurant's chef and owner, changes his menu so regularly, I wouldn't want to miss something new and exciting. As is often the case, what makes Ciro's cuisine so delectable is not only that he's a highly skilled chef but also that he uses the best, freshest ingredients. And that, of course, makes a world of a difference! It also means that while the menu is often updated, it's rather small. But what the menu lacks in size, it more than makes up for in flavor and creativity.
Without further ado, let's look into some of the meals I was lucky enough to savor at Ciro's in the past few months, starting with my most recent visit. We kicked things off with an Italian classic, vitello tonnato. Needless to say it was both fresh and flavorful, and certainly a very welcome departure from some of the more uninspired vitello tonnatos I've had in this city over the years.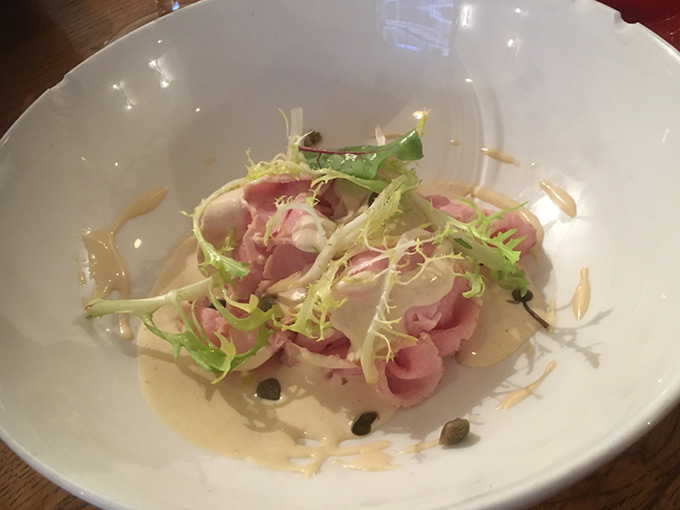 The burrata… well, friends, what could I possibly say about Ciro's burrata in order to truly do justice to its wonderful texture and that exquisite taste? I don't know. There are no words. It was just a remarkable experience I'm hoping to renew very soon. Even the balsamic and the cherry tomatoes that came with it were absolutely delicious and the perfect complement to the burrata's rich creaminess. Oh Ciro, please have this on your menu the next time I visit!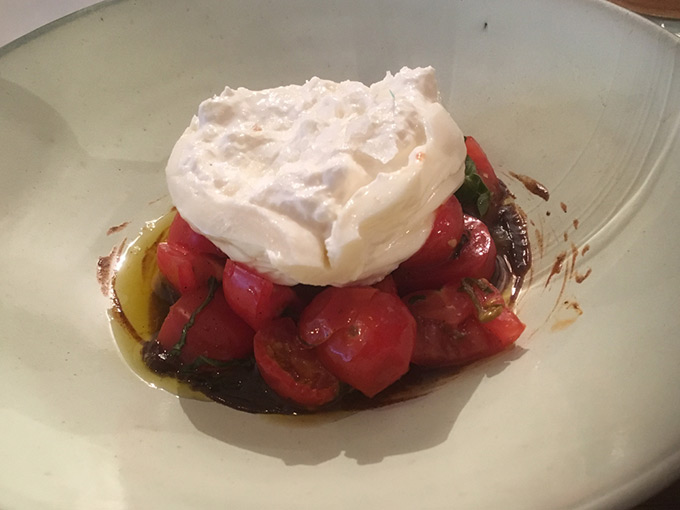 Can you ever really go wrong with cacio e pepe? When a chef knows how to make it just right, the answer is no you can't, and yes you should order it every chance you get… I mean unless you don't like cheese or pasta. In which case, I'm afraid this may not be the blog post for you. Anyway, yes the pennoni cacio e pepe pictured below was everything I was hoping it would be — and more!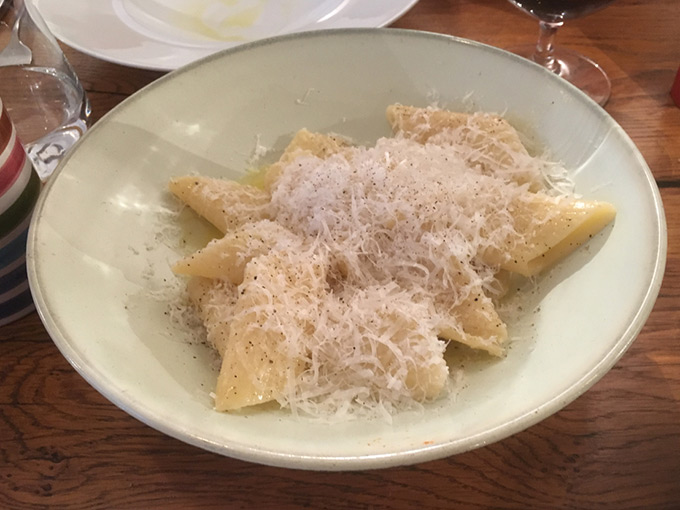 This was a rather unexpected menu item. For some reason, of all the pasta varieties that are available out there, I was somehow not expecting to see maccheroni in any of the dishes on the menu. But this pizzaiola dish was so good and hearty. The sauce was just the right consistency and the meat was tender and delicious. This dish reminded of my childhood, and I'm not even Italian, but this is clearly Italian comfort food at its best!
The next few dishes are from a meal I had a few weeks ago with a friend of mine. I started with this lamb and eggplant dish. The meat was delicious and the eggplant was like a garlic explosion. But don't get me wrong — I mean that in the best possible way, biting into this eggplant, my initial thoughts were "wow that is a whole lot of garlic, but it works beautifully with the smoky eggplant — more please!"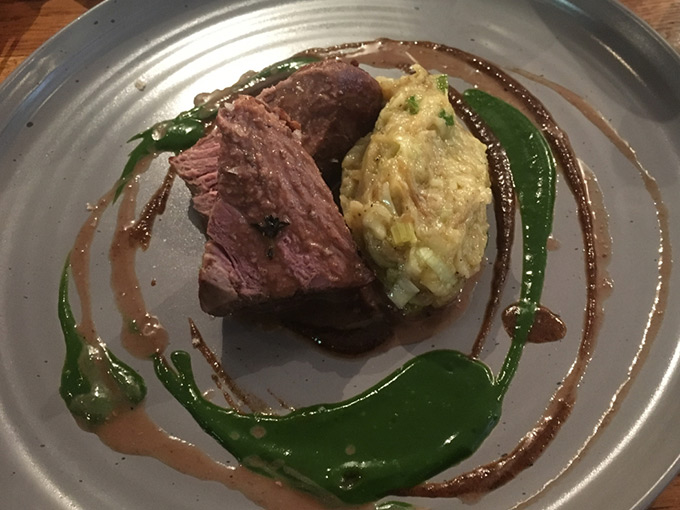 Another cacio e pepe dish. What can I say, if I see cacio e pepe on the menu, you know I'm ordering it. Heck, even if I don't see it on the menu, I might try talking the chef into making it!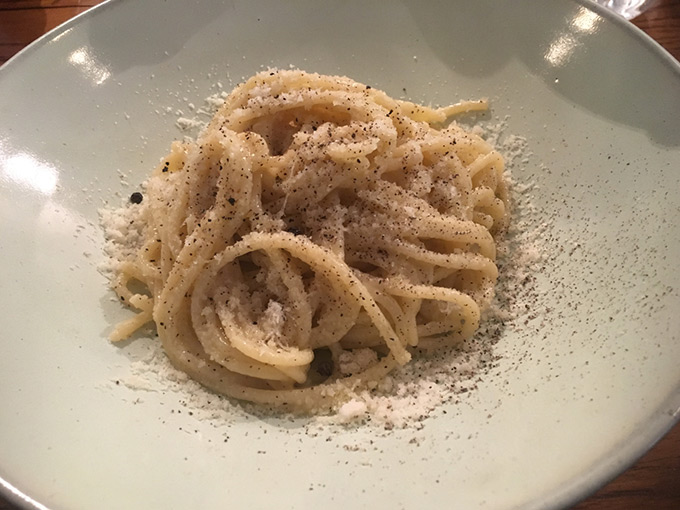 A little something for my sweet tooth, I wasn't quite expecting the tiramisu to come out looking this way, but it was fresh and it really hit the spot.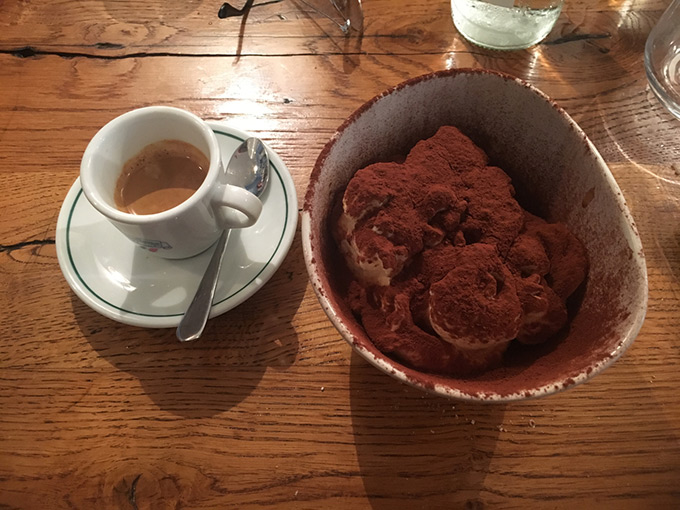 This next visit was a little earlier this year, I don't even know if this starter was on the menu or if they kind of tweaked it because I asked for a change, but either way, this scallop and pumpkin dish was definitely a treat for my taste buds. Super yummy!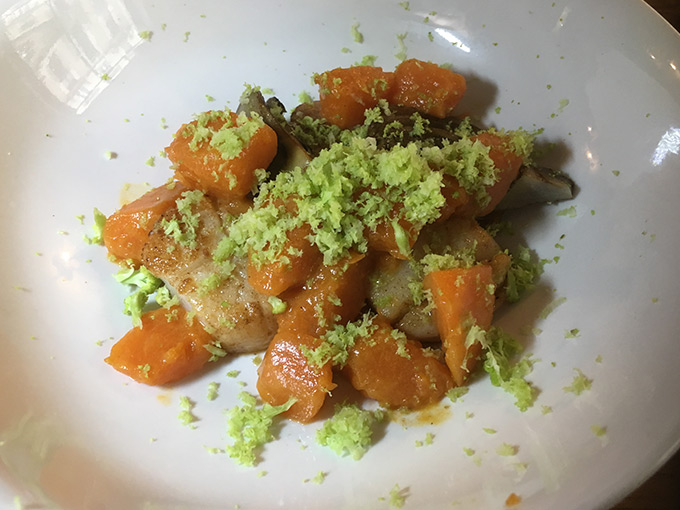 Octopus? Pasta? Octopus pasta? Yes please! Two of my favorite ingredients combined into one dish. Did it disappoint? Definitely not! Seafood pasta perfection.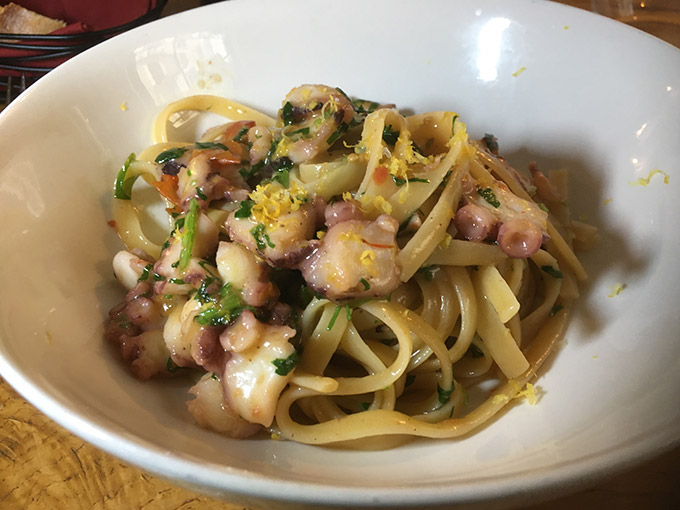 OK a word about Ciro's desserts: they're always delicious but huuuuuuuuge! Definitely worth sharing.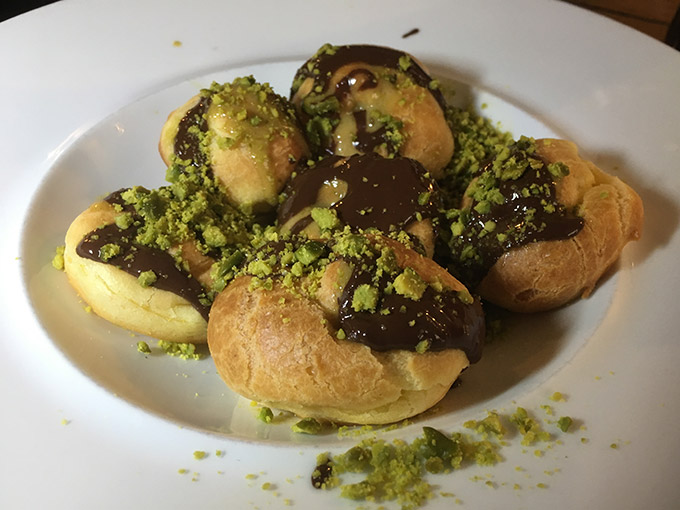 The next few dishes are from my second visit. The one thing I was learning about Ciro's menu is that his starters are often unexpected, and I love that! My friend had this eggs over mashed potatoes dish… I didn't have any but I understand it was really good.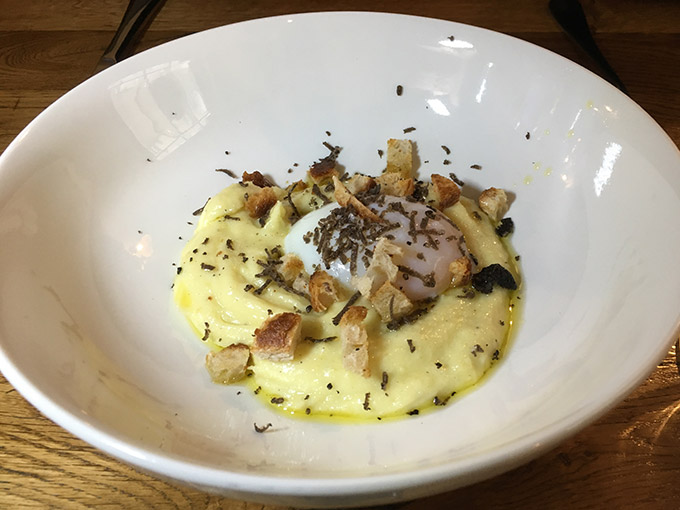 I love pork belly and I love broccoli rabe. Yes I loved this dish. A lot. A lot, alot.
Spaghetti alla gricia! What is that you ask? Well the main ingredients are pasta and guanciale. What is guanciale you ask? It's pork jowl, and it's yummy with pasta and some freshly grated parmesan!
And that brings us to my very first meal at Ciro's. "Polenta and beef cheeks?" I wondered as I read the menu… I don't know. I'm not really big on polenta, and beef cheeks aren't the kind of thing I typically order either. Then of course the dish came and I realized the reason I didn't care for polenta up to that point was probably that I had never experienced such a rich, flavorful mouthful of it. And the beef cheeks? Tender, succulent perfection! Yep, yep.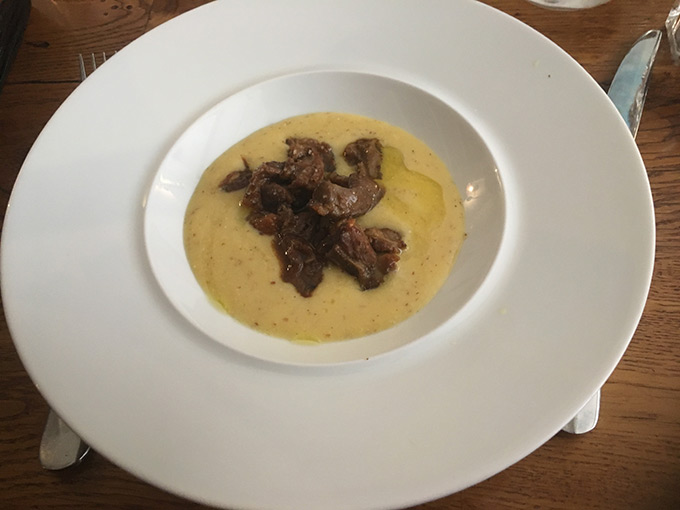 Beef carpaccio. The friend I was meeting for lunch ordered this. Not a whole lot more I can say. I don't eat raw meat. My friend loved it though.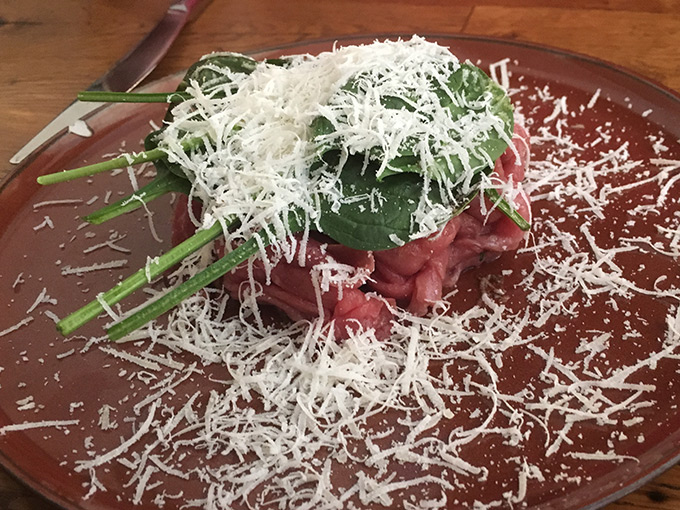 OK so there is definitely a cacio e pepe motif here, I will admit that much. But in fairness, you were warned, when I see it, I order it. And the first time I had it at Ciro's it was risotto, not pasta. Will this post get very, very repetitive if I tell you how good it was? Because it was, it was really good.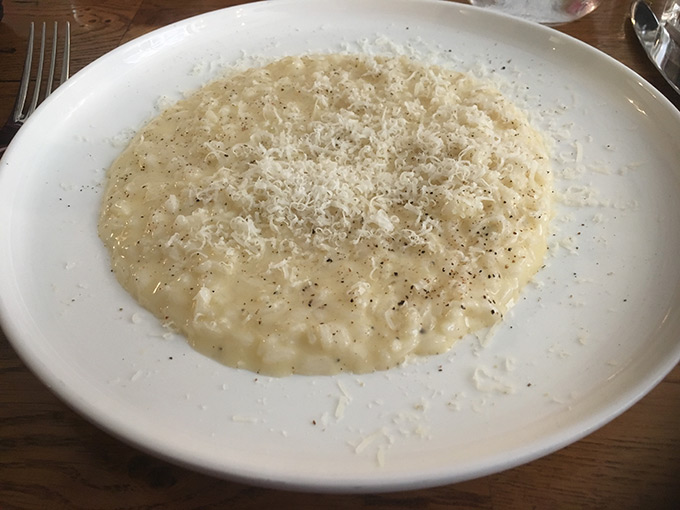 A little tiramisu action to conclude things…
So you get it, I love this place. I was just there, and if I could, I'd go back and have lunch there on Monday too. Then Tuesday and Wednesday to sample some of the other stuff on the menu before it changes. But I can't. I'm looking at a very busy week. My only consolation is that I know when the menu changes — probably sooner rather than later — we'll be treated to more of Ciro's scrumptious, creative recipes. And I, for one, can't wait!