If you're anything like me, you're probably wondering how many more burger joints Geneva needs to open before we move on to a new trend. I've mentioned this before, and given that more and more establishments serving burgers keep showing up, I will probably mention it again sometime soon.
You'll notice, however, in spite of my whining, I still usually go check these places out on the off-chance one of them might be producing something worthwhile.
Sometime around the end of last year, Black Tap opened its doors right in the heart of Rive. So in my quest to find some good grub to review on this very blog, it wasn't long before I was sitting at one of their tables waiting for a medium-rare cheeseburger, with a side of fries — or onion rings, they make those too — and a vanilla milkshake. They make these utterly indulgent, over the top milkshakes, but I'm a purist. I like a plain vanilla milkshake, and the one thing I'm willing to add is a maraschino cherry… or two! What can I say, I love them!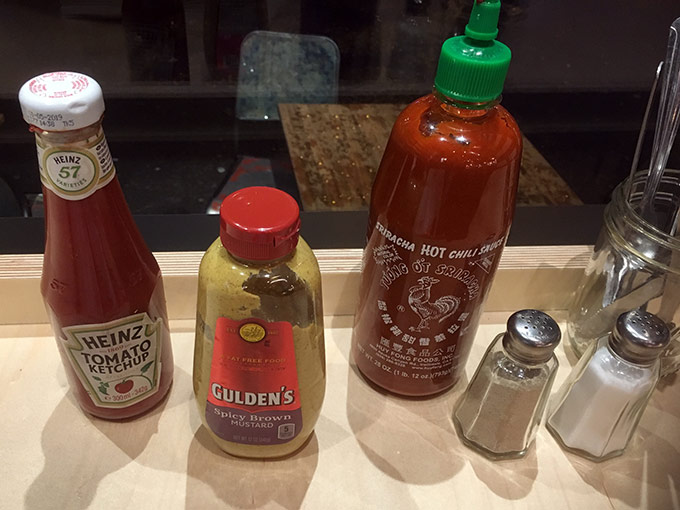 The condiments at Black Tap are both fairly simple and yet somewhat unexpected. I mean… Sriracha? Don't get me wrong, I love it, and I always keep some at home but it's not really what I'm looking to add to my burger. Also I'm more of a yellow mustard kind of girl, but spicy brown works too I guess. I will say, burgers are the one food I'll add ketchup to. Mostly I just don't care for it though. Not even on fries.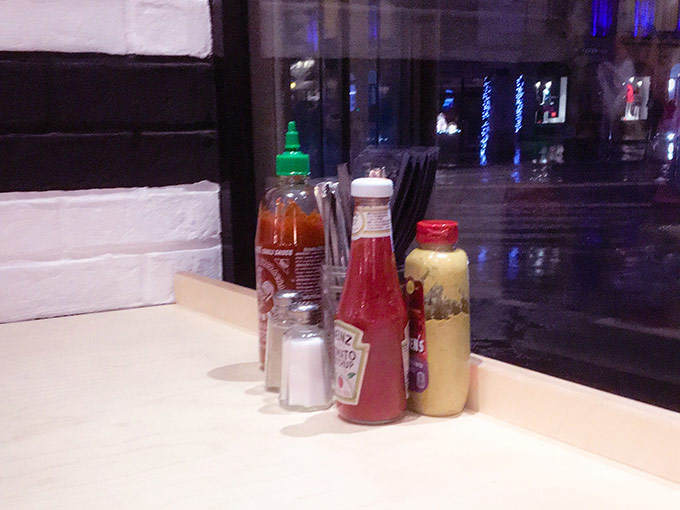 And now the burger. The main event. The entire reason I'm sitting at a table at Black Tap, listening to music that's just way too loud for my advancing age! This is how it comes, you assemble it with the toppings of your choice sitting on the side of your plate. A very special note for their dill pickles. Yes Black Tap gives you real dill pickles to put on your burger. And I'm already in love!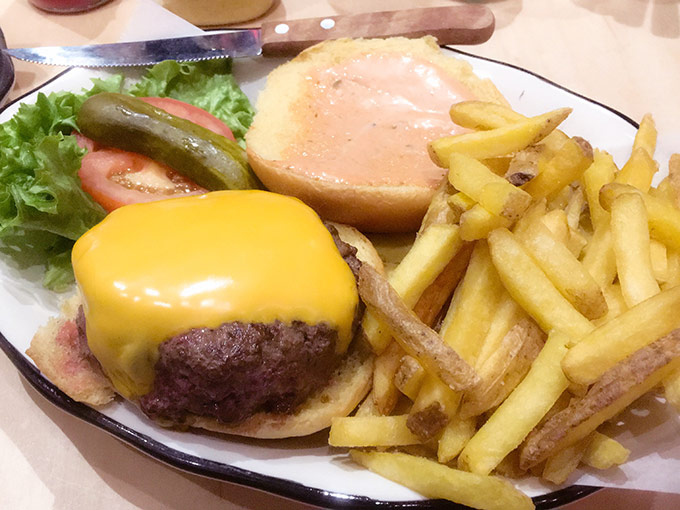 The assembled piece of art, I'm ready to take my first bite… so does it live up to my expectations? ABSOLUTELY! When I think burger, these are the tastes and textures I have in mind. A special word about the bread: oh man, Black Tap, you nailed it! The perfect soft, squishy burger bun. This is what I've been wanting for the past few years and this is what pretty much EVERY burger joint in Geneva has failed to deliver.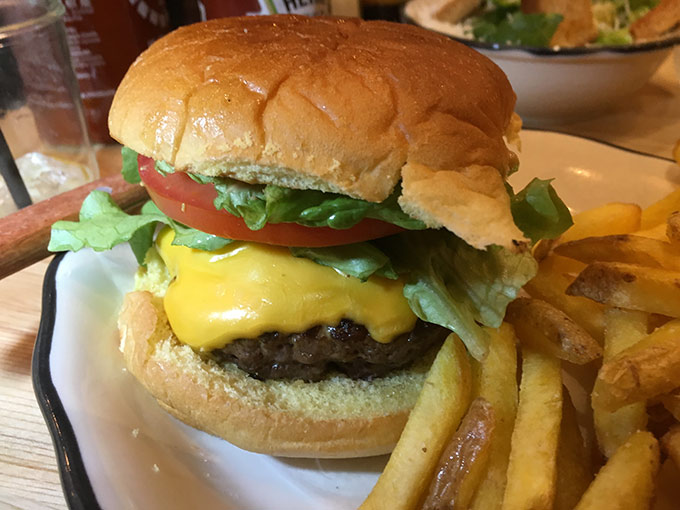 The meat — especially when they cook it to medium-rare perfection — is the perfect grilled, juicy burger meat I've come to know and love. Cheddar is of course the way to go with burgers, why anyone would go with Gruyère or anything else is entirely beyond me! A word about the fries, however… they're ok but overall nothing to write home about.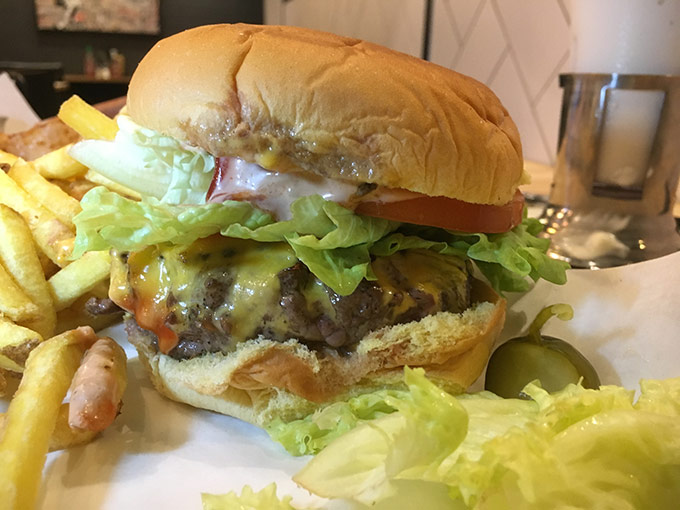 You can order a number of sides from their menu including onion rings, they're a little unexpected in their shape and texture but when they're properly battered, they're pretty good.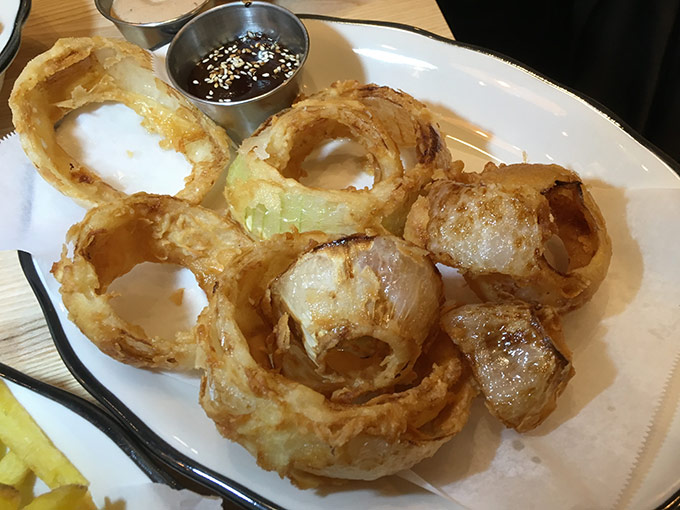 I can't remember which of their house sauces is pictured above, probably some sort of barbecue thing (I'm so not into barbecue sauce), but I would definitely recommend you order buttermilk dill — pictured below — it is definitely my favorite.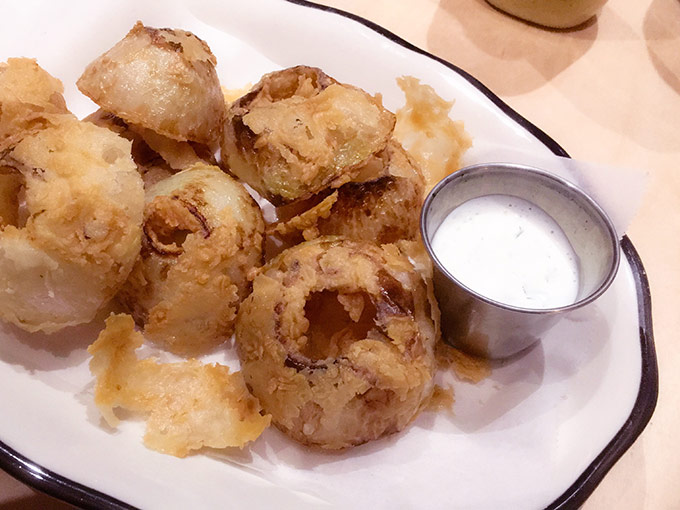 On a couple of occasions, the rings weren't properly battered — or maybe the batter sometimes falls off — and that tends to be a less remarkable experience. To their credit though, they're not using the processed, frozen onion rings many establishments seem to serve.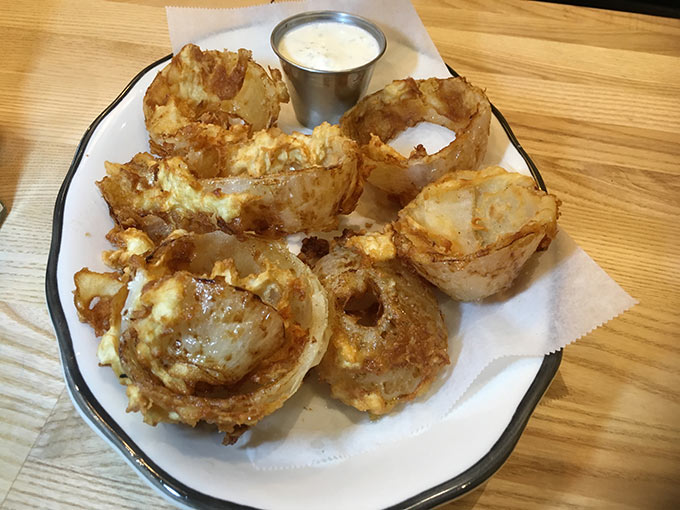 Now the milkshake… ah vanilla milkshake… you've been so elusive in this city for way too long. So now that you're finally back, in your truest form, please don't go anywhere. Just stay put! OK? Sit!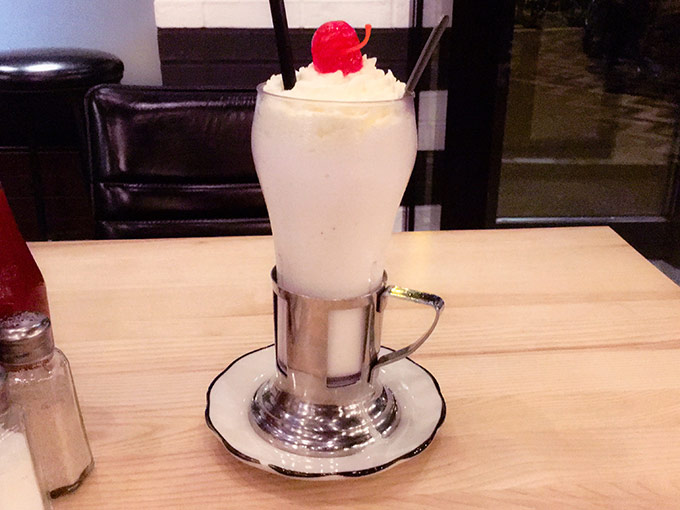 The one time I was feeling wild and decided to have cherry instead of vanilla. It was very good, but nothing beats vanilla. Yum!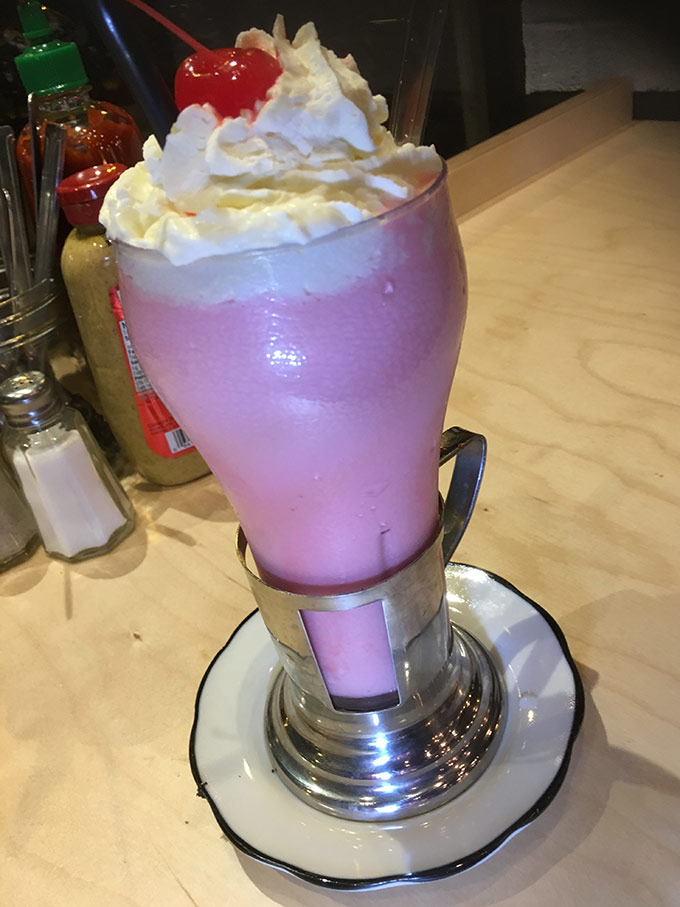 The restaurant's décor is somewhat lacking. The chairs are comfortable, but I can't say anything is particularly impressive or especially pleasant to look at.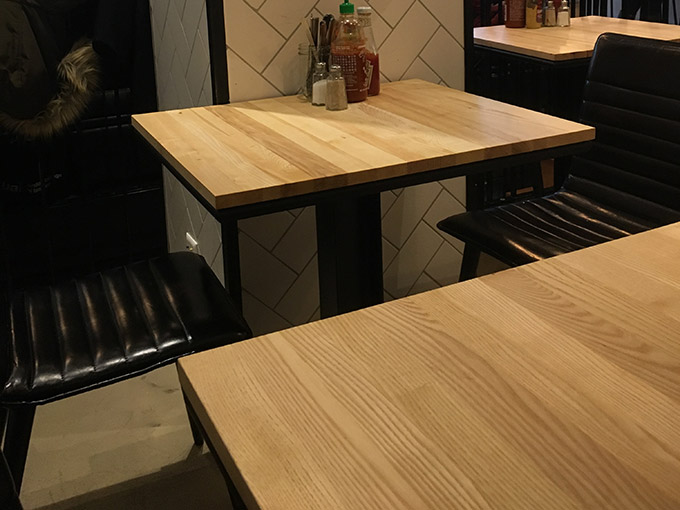 A couple of the walls are painted black. Kind of gives the place a dark vibe. And the one time I sat downstairs, I felt very claustrophobic, it's pretty stuffy down there.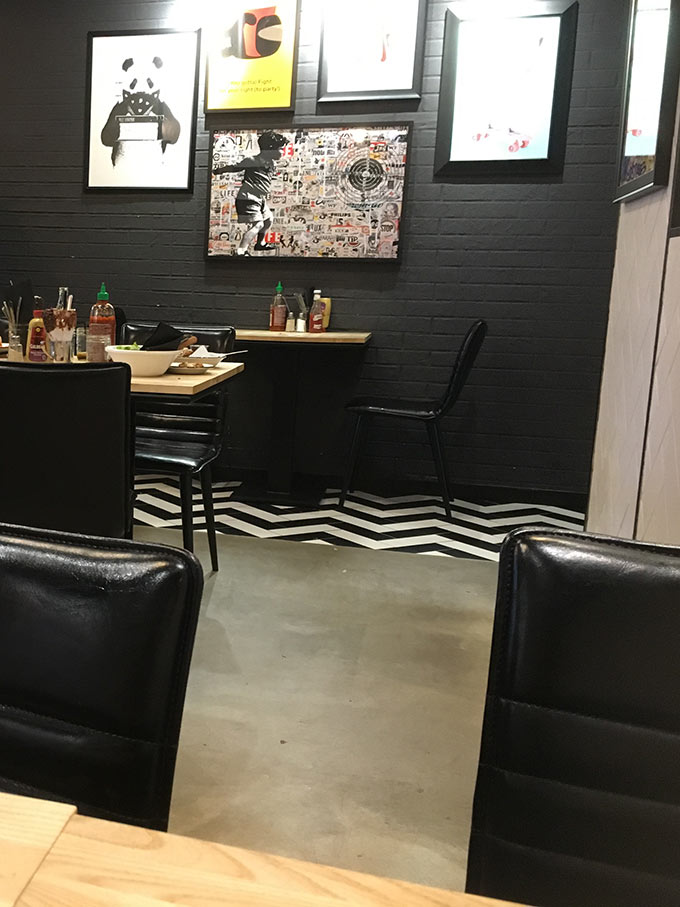 If you're just stopping by for a very quick meal, sitting by the window might be the way to go if there's room there.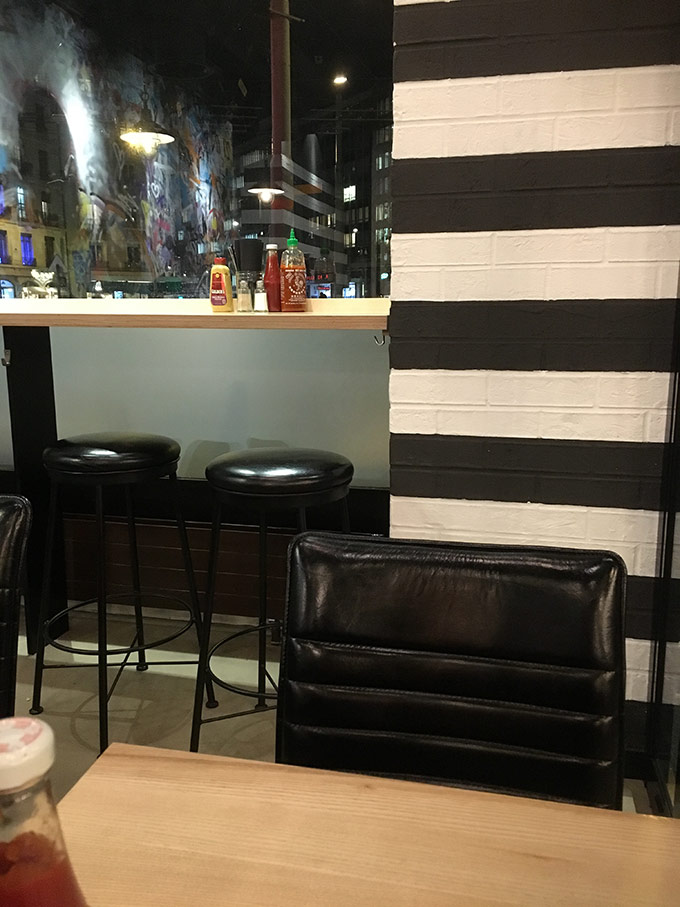 All in all, I really like Black Tap's burgers, the place is probably lots of fun for a very young crowd, but past a certain age, the noise and the chaos might get to you a little. Their burgers alone convinced me to go several times over the past few months though, so they're definitely doing something right.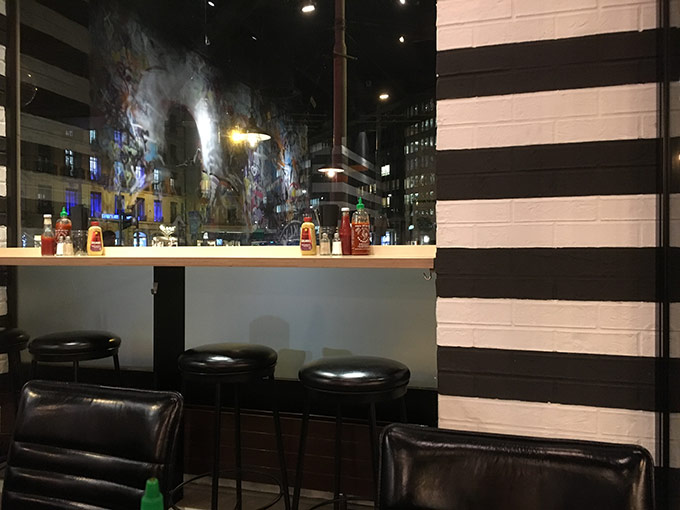 I haven't been in a while now but we'll see if the craving is back in the next few weeks. People have complained that it's a little pricey, and while that may be true, I'd rather have burgers less often and pay a couple of extra francs than go more often to the pseudo-burger joints Geneva seems to be so fond of. And by the way — it's not like any of them are particularly cheap anyway.
Service is pretty unpredictable too, everyone seems pretty friendly, but while some of the waitstaff is very professional, there are definitely a couple of really disorganized and forgetful employees at Black Tap. In their defense, it can get very crowded and chaotic in there.