It's spring, boys and girls, and that means warmer temperatures, and that means people are going to want to be out and about. Preferably in some of the nicer areas of our little city. One such area is the Old Town – when the weather is good, it's the perfect spot to hold festivals and other such events. That must be why this past weekend's third edition of the Geneva Food Festival was such a huge success. The organizers had the good sense to bring it back to the Old Town – I can't say I was a huge fan of the venue in Vernier where they held the second edition last winter – and Friday and Saturday the weather was mostly great. It was a little chilly and rainy on Sunday, but two out of three days ain't bad for Geneva!
Hygiene is a MAJOR issue
Before I get to reviewing the food, I want to write a few words about the hygiene at these events. I don't want to name names, but it's lacking. Seriously. There's a problem, and it needs to be addressed. I saw some stuff over the weekend that made me want to leave and never go back to a food festival in Geneva ever again. Here's one rule many food trucks seem to be ignoring: you shouldn't be handling both food and money with your bare hands. In fact you shouldn't be handling food with your bare hands at all. And money is known to be one of the dirtiest things on this planet.
I found one particular incident especially nauseating, but before I get into the unfortunate details, I quickly want to mention I won't be posting any photos of the guilty food truck or its food here. So you can safely assume I didn't witness the handlers of the food in the photos below engage in the behavior I'm about to describe in painful detail.
So here goes: there were three people working a particular truck, two were handling food, the other was mostly dealing with customers and handling money, but she was also wrapping up some of the food, and there was definitely contact between her bare hands and the food. As if that wasn't bad enough, at one point, I saw her sneeze into her hands, grab a dry paper towel, wipe her hands, and just go straight back to doing whatever it was she was doing. Nope – didn't even bother giving her hands a quick rinse.
For starters – and this really is just for starters – here are three simple rules I'd ideally want to see every food truck follow:
Employees handling your food should be wearing gloves, and changing them frequently.
Employees should cover their hair in some way and refrain from touching it.
Employees handling money should not be handling your food, and definitely not if they aren't going to clean their hands between contact with food and contact with money.
Needless to say, I saw all of the rules above broken on a very regular basis throughout the weekend. If you want to read a little more about food safety and hygiene, this CNN article is a pretty good place to start.
The other stuff
I will say, as far as I'm concerned, this food festival was something of a letdown… I mean sure, there was lots of food, great weather, and a generally good atmosphere, but I'm starting to find food truck fare a little uninspired. Expensive for what it is and uninspired. Though I do have to mention that part of the problem is my attitude. Because I'm starting to question food safety at these events based on the things I've seen, I'm increasingly reluctant to try food trucks I'm unfamiliar with. And obviously, trying new things is part of the fun. But again, that's my issue, and I should figure out how I want to deal with it from here on out.
Nero's Pizza
I hadn't had Nero's in a while, and I have to say I was pleasantly surprised. The slice of pizza I had was good and the ingredients were fresh. I enjoyed it overall.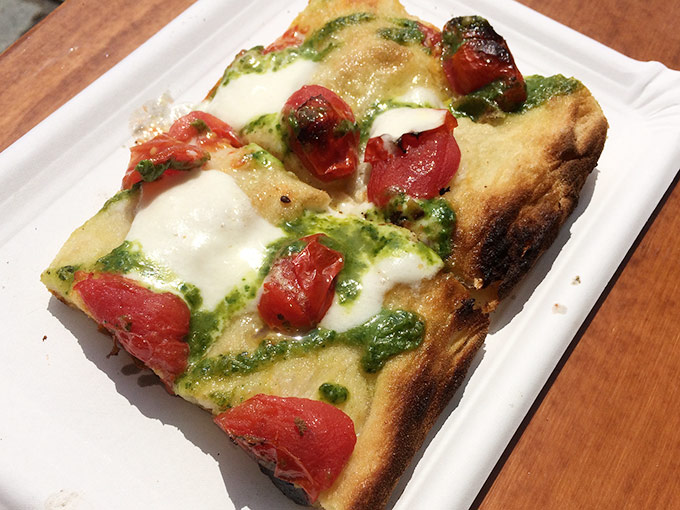 Pad Thai – Debi's Kitchen
I didn't actually have this, my friends did, and they said it was fresh and quite good. It certainly looked good – I hope they make this again soon so I can try it.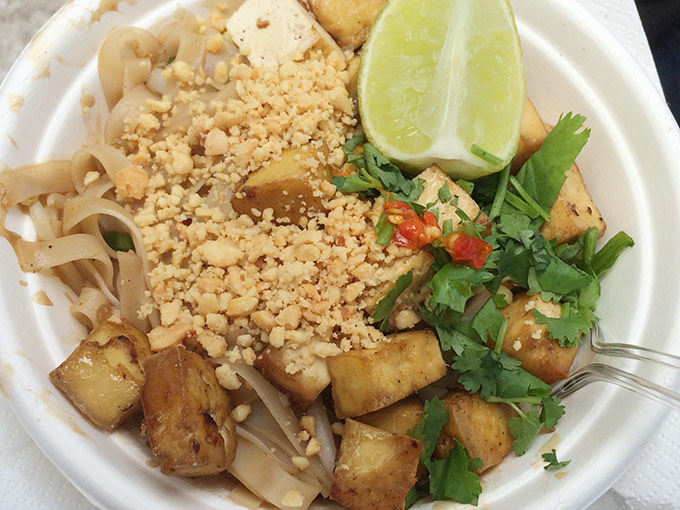 Paris-Brest – Pierre et Jean
I don't think I'd ever had anything from Pierre et Jean before, I see their stuff on Instagram every now and then, and I'm always curious, but this was my first taste. It was good. Paris-Brest is one of my favorite pastries and if I see it on a dessert menu (not nearly often enough if you ask me), I'm sure to order it. I've had some amazing ones over the years.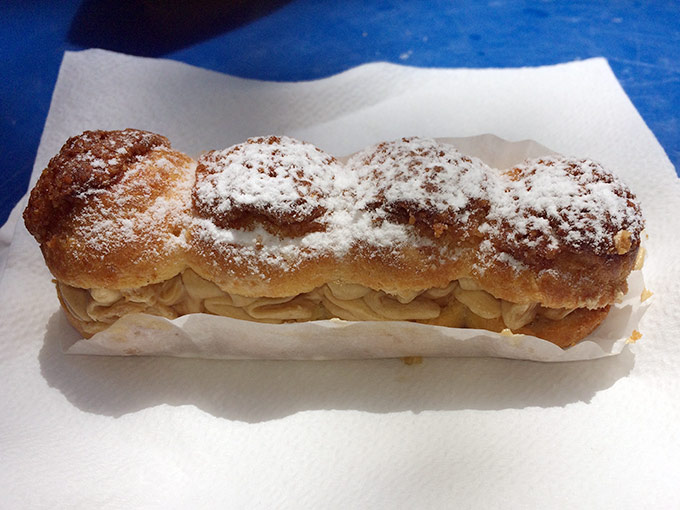 Pulled Pork – Funky BBQ
I always end up getting something from Funky BBQ when I'm at one of these food festivals, they're so friendly, and the food just never disappoints! This sandwich was no exception, the meat was great and so was the bun. Extra points for attention to detail.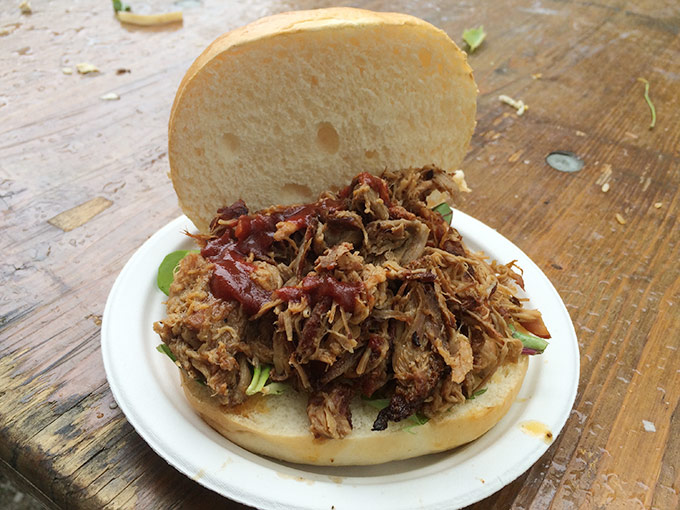 Carrot Cake – The Hamburger Foundation
I love THF's carrot cake… I love everything about it, the sweet, spicy carrot flavor, the cake's texture and especially the icing – it's perfect! I do, however, have one major complaint…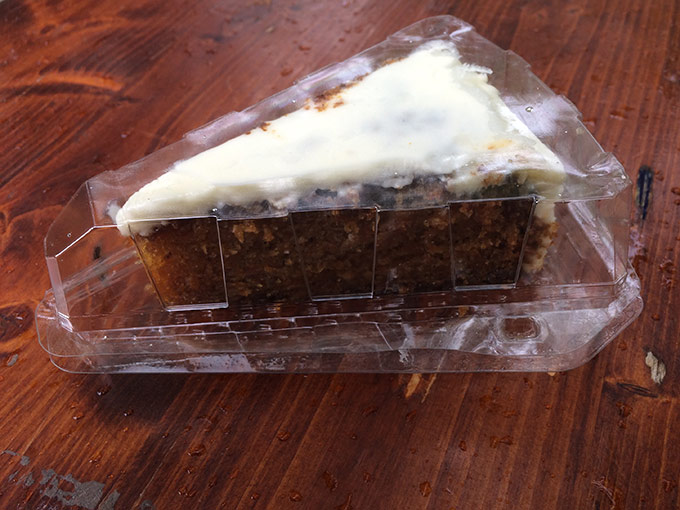 Seriously THF dudes – can you please find a way to package the cake so most of the icing doesn't end up on the plastic instead of on the cake where I actually want it? No, really, this is a problem, and this happened to me at this past winter's food festival too. Annoying!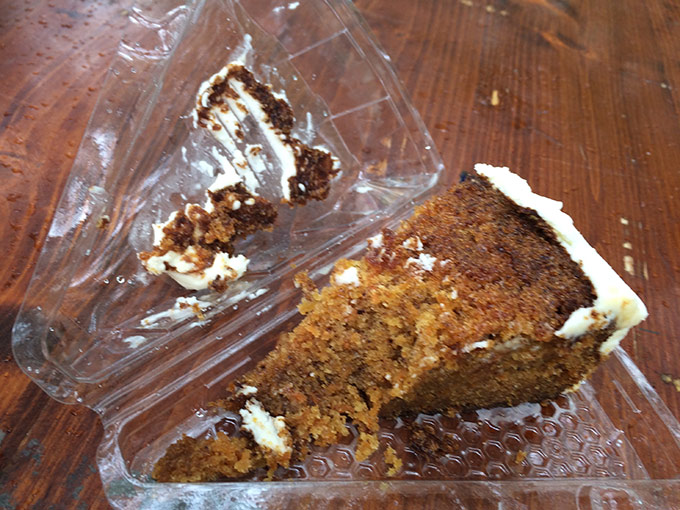 So the weather wasn't so great on Sunday… but oh well…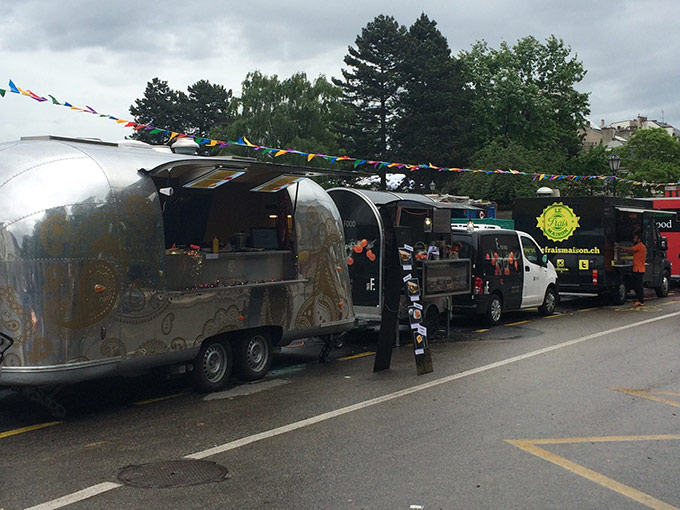 And then at around 5 pm, the festival started to wind down… it was good fun all in all, hopefully the fourth edition will be even better and will improve on areas that… you know… need improvement.