Yomo Lounge is a restaurant located in the heart of Geneva opposite the lake. Theirs is a delicious mediterranean and Lebanese cuisine. I went when they opened six or seven years ago, and while I had enjoyed it, I somehow never got around to going back. But a recent dinner with friends was the perfect opportunity to check how things had come along over the past few years. And let's just say, I was pretty happy with what I saw and tasted that evening!
An interesting note about Yomo, the food doesn't automatically come with bread. You have to order flatbread on the side if you'd like to have some. At CHF 6, this is a pretty expensive piece of bread. But it was fresh, delicious and worth it.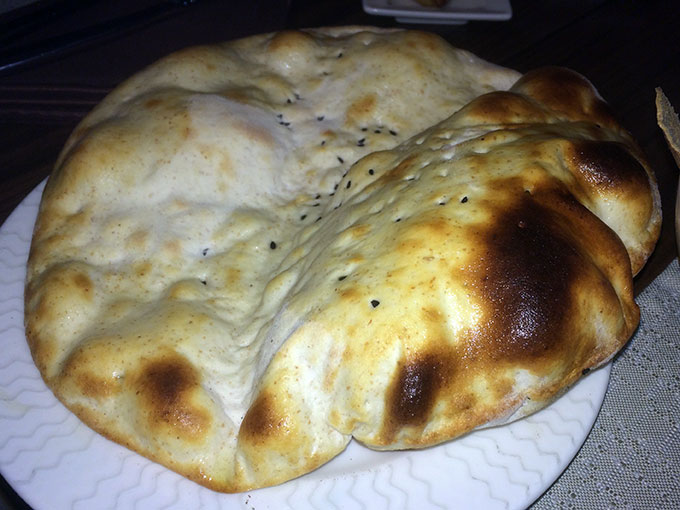 As I've often pointed out before, when I'm in a Lebanese restaurant with friends, we're more likely to order a selection of mezze than anything else. That particular evening was no different. We kicked things off with a fresh fattoush salad.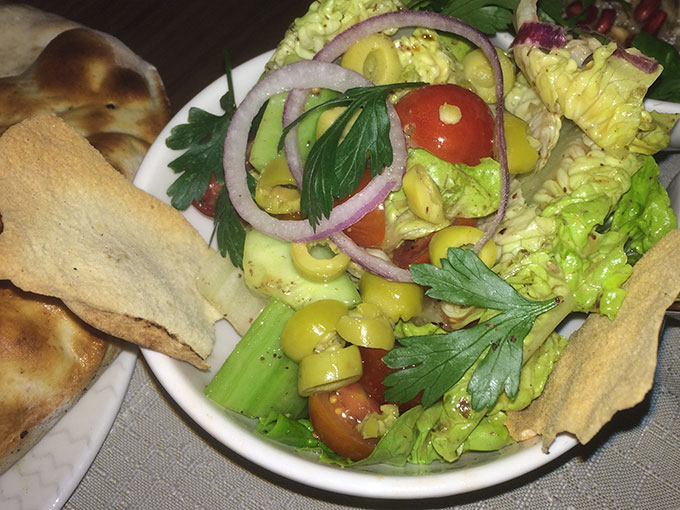 We ordered various savory pies, including spinach – a Lebanese classic – and a veal cumin pie I had never had before which was also very good. I love cumin and I'm always more likely to order a dish if cumin is listed as an ingredient.

Even though my preference clearly goes to hot mezze, what is a Lebanese meal without an order of hummus and baba ghanoush? Besides I love all things eggplant, so I'm more than happy to make an exception for these cold mezze.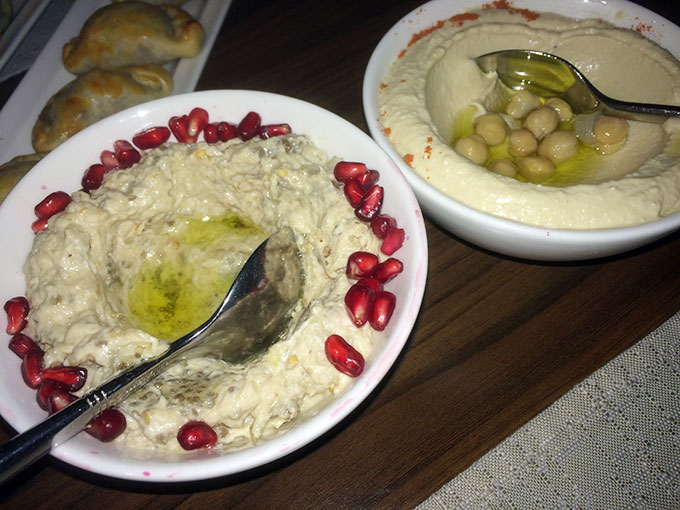 This was another eggplant mezze, I believe it was some sort of smoked eggplant salad, and it was topped with lots of cilantro. What's not to love?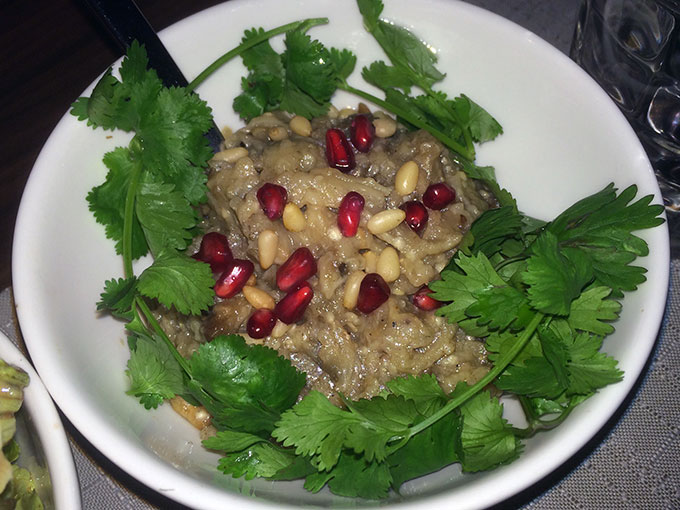 And now to one of my favorite parts of the meal, Yomo's manakish, described as oriental style pizzas on their menu, a flatbread that comes with various toppings that all seemed absolutely delicious. The ones we ordered certainly were!
This halloumi and oregano manakish ways definitely the winner as far as I was concerned – I love halloumi cheese!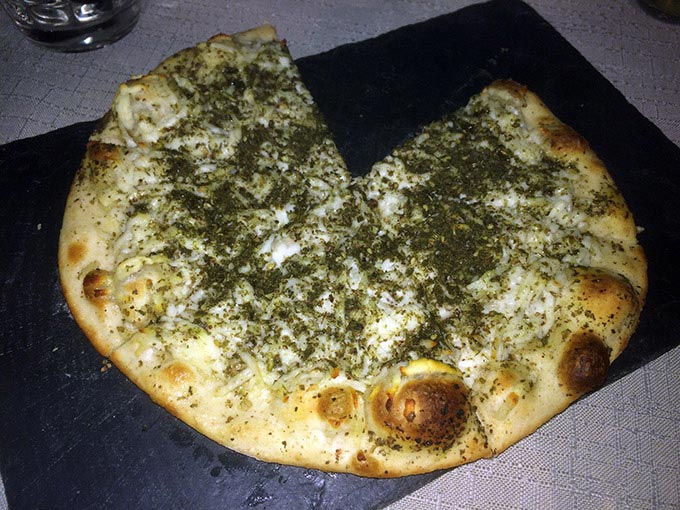 But the zaatar and olive oil manakish was fragrant and delicious. It was also the perfect choice for one of my friends who happens to be vegetarian.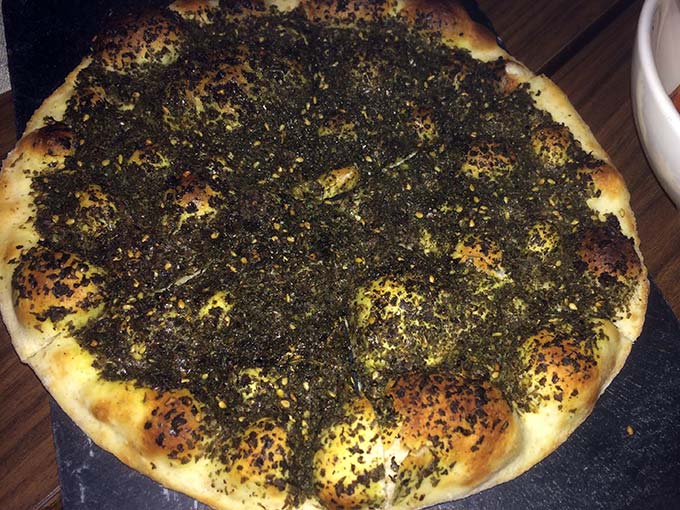 Then came my very favorite part of the meal – which is saying a lot considering how much I enjoyed every part of the meal – dessert! What words could I possibly use to do justice to Yomo's cheese and almond konafa? Well let me first start by saying it is totally worth the 12 minute wait! See this dessert is all about contrast. The crunchiness of the pastry and soft gooeyness of the filling. The sweetness of the sugar syrup and the slight tanginess of the cheese. Everything works together to make the perfect dessert! Very sweet and rich, but I loved it!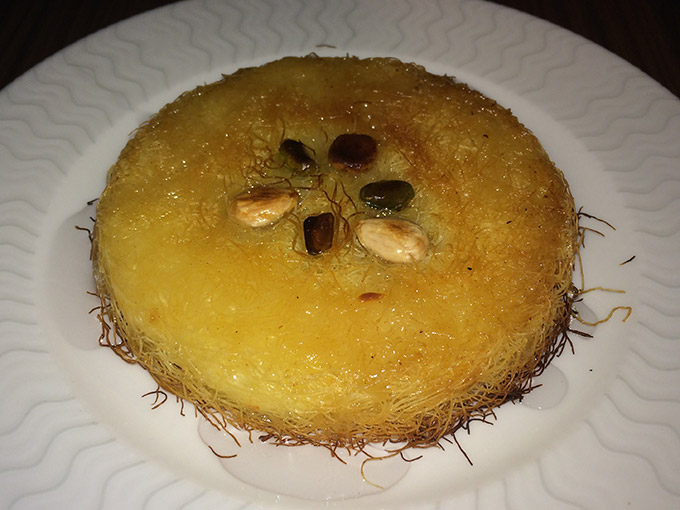 So that was my experience at Yomo Lounge. And you know what? I can't wait to go back!