I often find myself craving fish and chips – mostly fish to be honest… I mean who doesn't every now and then? But when you live in Geneva, there are very few options to satisfy such a craving. I guess filets de perches is Geneva's answer to fish and chips. But it isn't quite the same, and more importantly, the filets de perche most restaurants in the area serve these days aren't from the lake. Not even close!
So back to fish and chips… what's a girl to do when the mood strikes? Well, one possibility is to head to Geneva's Kempinski and order fish and chips while comfortably seated in their Floor Two lounge.
A Floor Two beverage will come with customary cocktail snacks. These days, in addition to their traditional nuts and marinated olives, Kempinski also serves tiny slices of olive cake. I really enjoyed it!
But let's get to what we're really here to discuss, Floor Two's fish and chips… so how does it rate? Frankly, I quite enjoyed the fish, the batter was really crispy and not too thick – just the way I like it. I believe the fish they use is sole and it works rather well.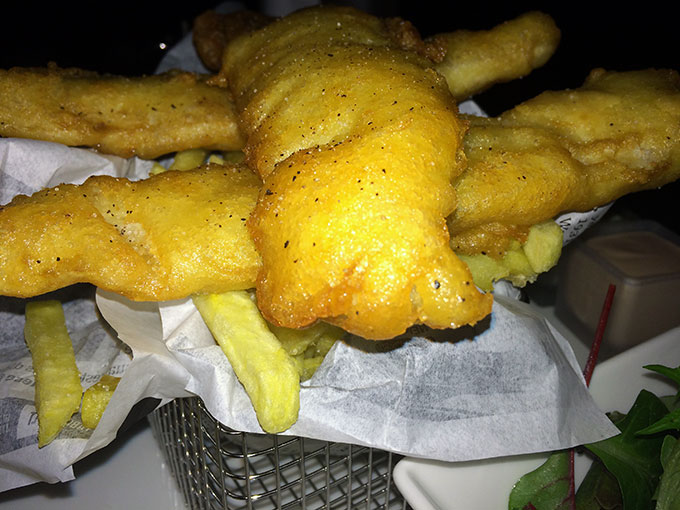 A small mixed green salad also came with my order in addition to shrimp cocktail and tartar sauce. My preference went to the latter, I don't especially care for shrimp cocktail sauce and either way, this particular one was really nothing to write home about. The fries were equally forgettable. But they usually are in five start hotels in Geneva, which I always find very surprising but again I wasn't really in it for the fries.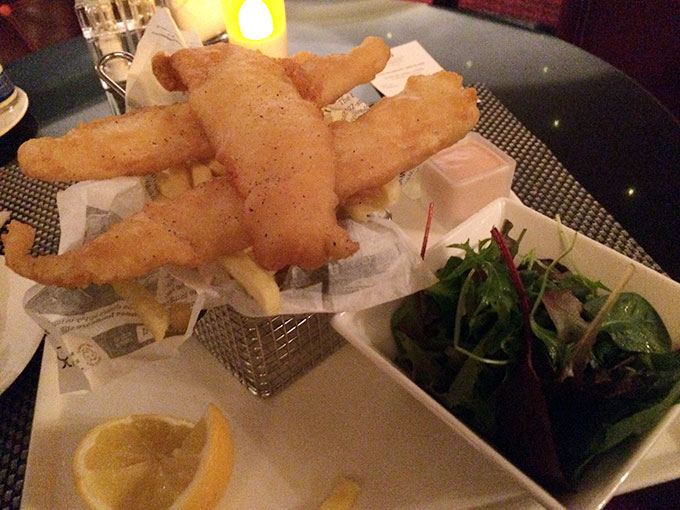 Overall I enjoyed my meal, though I definitely like a little vinegar on my fish and chips and alas there was none to be found. It was also probably a little more expensive than the kind of fish and chips you'd have elsewhere, but not only is this a five-star hotel but folks, this is Geneva… GENEVA! I'd definitely have this again but I'd ask for double the amount of tartar sauce in lieu of shrimp cocktail sauce. But that's just moi!