This week I was fortunate enough to be invited to a tasting of Hotel d'Angleterre's highly prestigious annual Indian Food Festival. However, as I was unable to make the event due to a prior engagement, one of my fellow foodies kindly attended in my stead. And judging by what she told me and the pictures she took, I am seriously starting to regret not being there in person.
In fact, had I not planned a vacation during the very dates the festival is being held, I would have definitely made it a point to find a suitable date between July 30 and August 16 to go and enjoy what is clearly a unique selection of Indian fusion dishes currently offered at Hotel d'Angleterre's Windows restaurant. I definitely hope I'll get an opportunity to do so the next time the festival is held.
For those of you who would like to enjoy an Indian fusion meal at Hotel d'Angleterre, the annual 2014 Indian Food Festival is being held from July 30 to August 16. For more information on Hotel d'Angleterre, you can visit their website.
So exceptionally this review is by my friend and fellow Genevan foodie, but before we get to her description of the evening, I just want to add that she happens to have visited India numerous times over the years and is therefore particularly familiar with Indian cuisine. Furthermore, I often take restaurant recommendations from her because I trust her judgement, and somehow, she always seems to know where to go — in fact, stay tuned for an upcoming review based on one of her recommendations!
For the purpose of this post, each photo will be accompanied by my friend's comments.
Mango Lassi
A lassi is a traditional, yogurt-based drink served in India and its surrounding countries. Unlike some of the disappointing lassis served at other establishments in the city, the mango lassi served at the Indian Food Festival was as fresh as it was delicious. Definitely a winner!
Selection of starters
The evening's guests were then treated to the following assortment of starters:
Prawn Kalimiri, a crispy fried shrimp flavored with white, green and pink peppercorns. Not for the faint of heart — it is quite spicy.
Pudhina Tala Murgh, grilled chicken served with lemon, ginger, chili pepper and dried mint and other Indian spices.
Channa Chaat, a spicy chickpea salad with mint and tamarind chutney, sweetened yoghurt and pomegranates.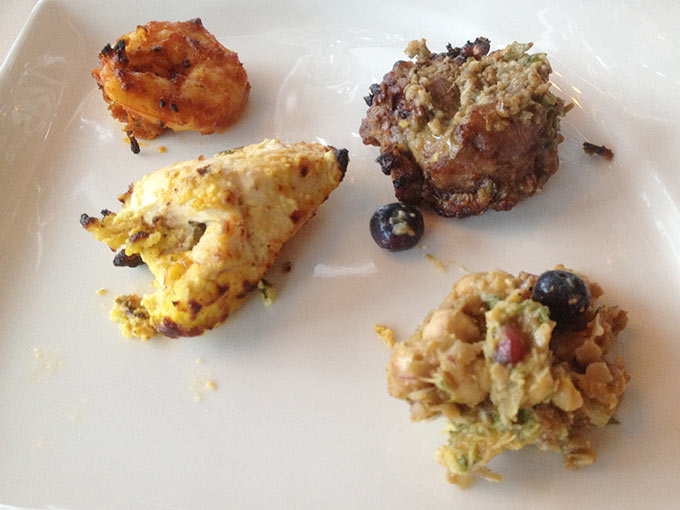 In keeping with the fusion theme, starters also include perch fillets marinated in traditional Indian spices.
Raita
An Indian classic. Can you really have an Indian meal without a traditional side of raita? This dish really hit the spot and was the perfect complement to the spicier dishes served.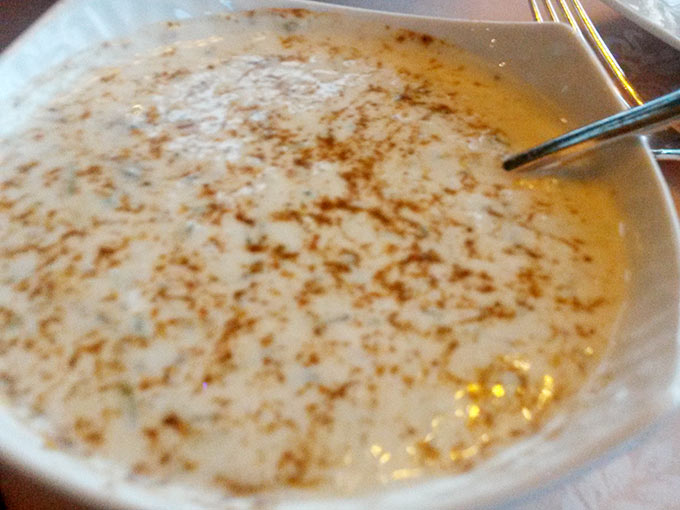 Chicken Pepper Masala
A spicy chicken dish served in a traditional Indian Masala sauce.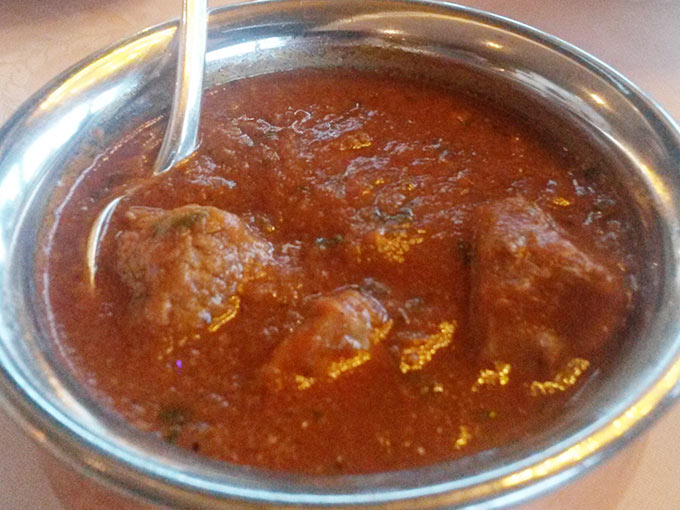 Biryani and Saffron Pulao
In addition to many other side and main dishes, two types of rice were served, you can enjoy a dish of Biryani, an aromatic rice that can come with your choice of vegetables, prawns, chicken or lamb. Alternatively, you can also order the Saffron Pulao, a rice cooked in cumin and — as you may have guessed — saffron.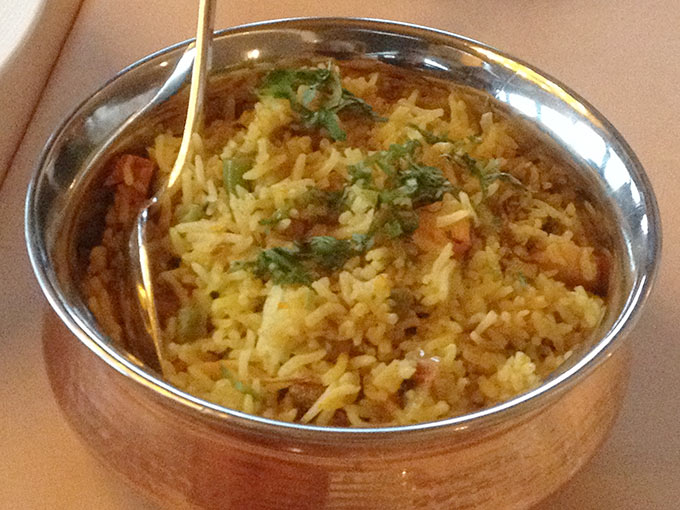 Sorse Maacch
The sea bream cooked in a special yoghurt sauce was  one of the highlights of the meal. It was cooked to perfection and a genuine delight for the taste buds! Highly recommended!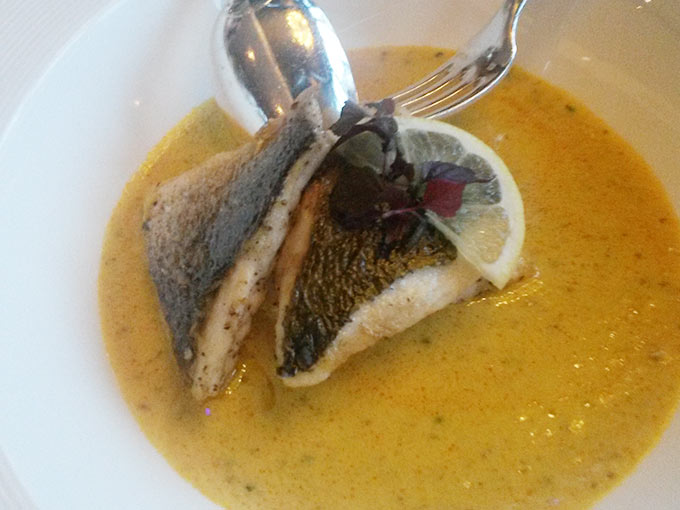 Various menu items including fish, two types of rice, lamb and potatoes were served at the media dinner.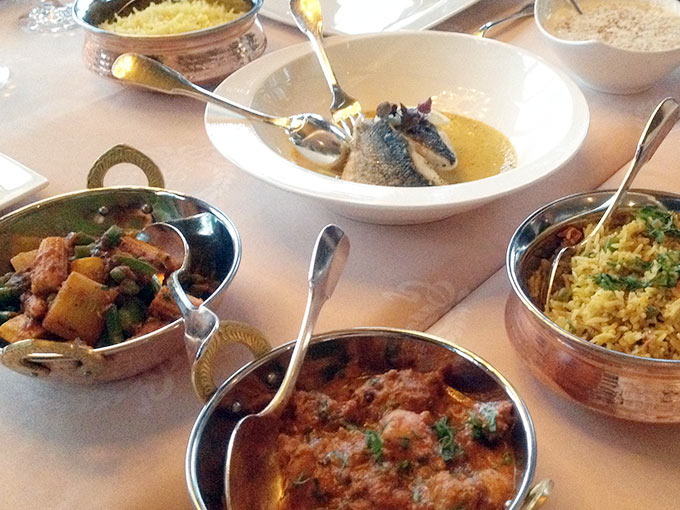 Tandoor
Attendees were also invited to visit the restaurant's kitchen, which is equipped with a tandoor, a special oven used extensively in India and its neighboring countries. Naan is traditionally made in a tandoor.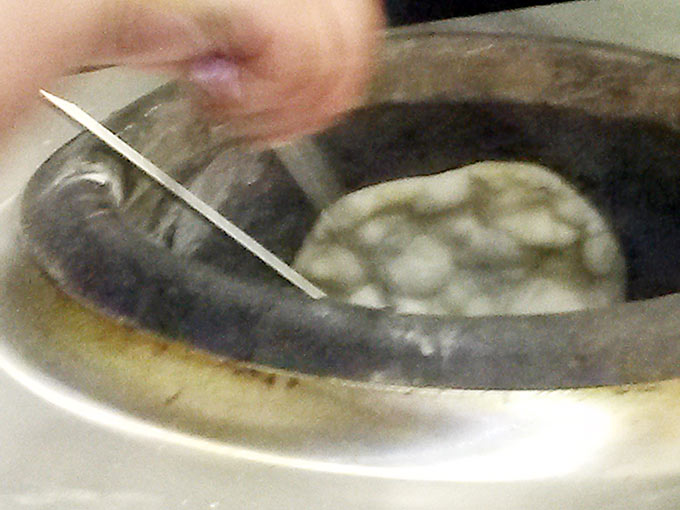 Chocolate Naan
Again, to honor the fusion aspect of the festival, special items are included on the menu such as this naan topped with chocolate-hazelnut and slivered almonds.
 Mango Panna
The dessert menu also includes a delicious financier cake topped with a scoop of lime and vanilla sherbet served in a special mango soup.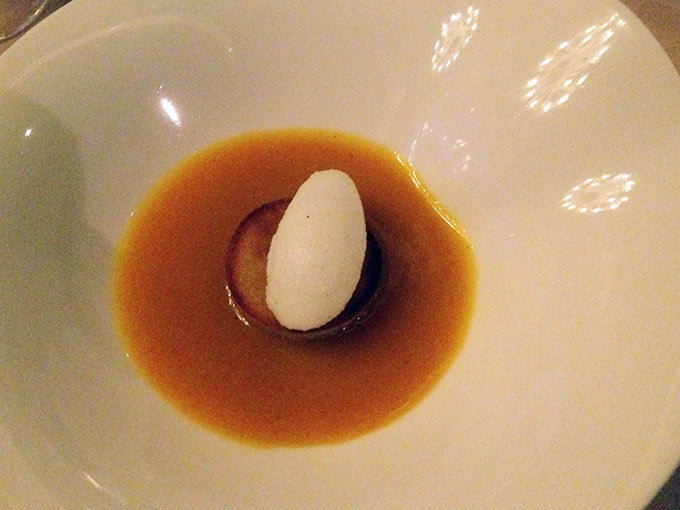 Overall, the Indian Food Festival is definitely worth a visit. The food is delicious, the menu manages to be both original and traditional and the service at Hotel d'Angleterre is top-notch. It is therefore no mystery this establishment is a member of the Leading Hotels of the World.
Gopal, the chef at the Indian Food Festival who came especially from London for the event, also deserves a special mention for preparing the exquisite dishes we savored with such delight.