For the longest time, I felt there was a huge shortage of decent breakfast joints in Geneva. The occasional Sunday brunch place? Sure. Typical croissants/pain au chocolat/ham and cheese sandwich boulangeries? Tons. But actual breakfast places? Not so much. Thankfully, though, things seem to be finally changing. Vinnie's Café, located in Plainpalais, serves typical English and American breakfast fare in addition to numerous different types of burgers, hot dogs and other sandwiches. I have now had several meals there and overall I quite like it.
The English breakfast consists of baked beans, toast, eggs and sausages. I'm not really a baked beans for breakfast kind of person, but if you are, you might enjoy this.
The American breakfast is as typical as it gets: scrambled eggs, bacon and pancakes. Actually these were blueberry pancakes… and I have to say, they were very good! Much better than anything I've had in Geneva up to now… good job, Vinnie! I'm kind of craving this meal right now, as a matter of fact.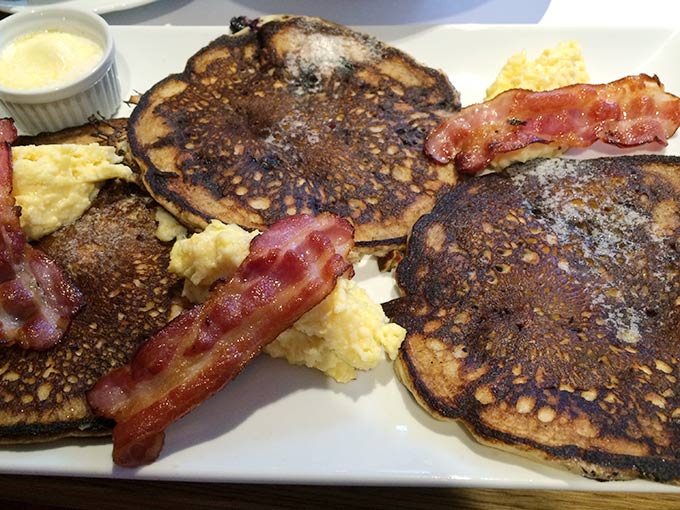 Of course, you can also order one of Vinnie's signature burgers. To be honest, I thought it was quite good, somehow it was better than I expected it to be.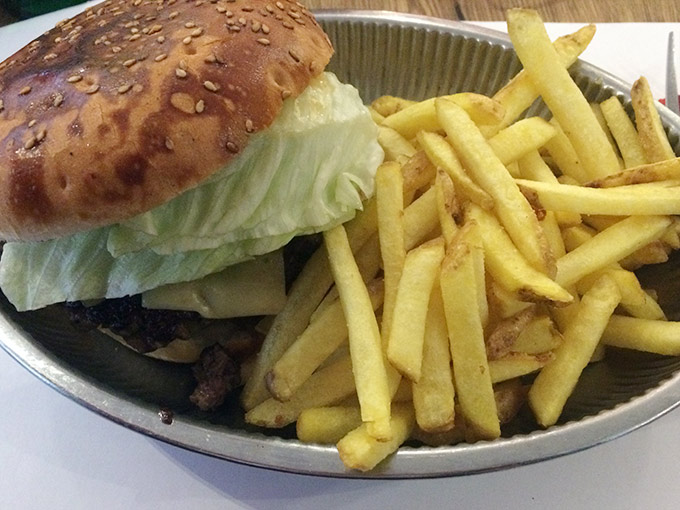 I'm not too sure about the cheese though. As far as burgers go, it just seems they never get the cheese right in Geneva. Still, overall, by this city's standards, this is a perfectly decent burger. I'd definitely go back and have one.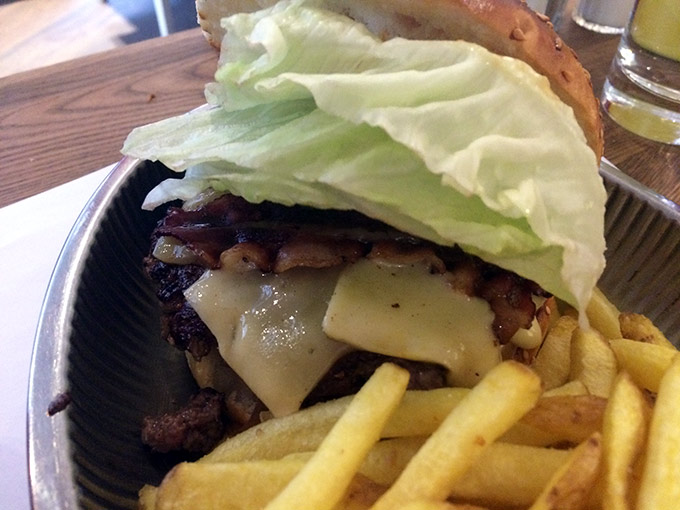 Also, I can't say I'm a particularly huge fan of the vintage bread baskets they serve their food in… details, restaurant owners, please pay attention to the details, they make a difference.
The hot dogs were not quite what I expected, somehow I thought they would be more similar to the ones you'd get off a NYC hot dog cart. It was actually not bad though. I just wish there was a place in Geneva that would serve hot dogs on a proper hot dog bun, like one of those really soft ones you get in the U.S.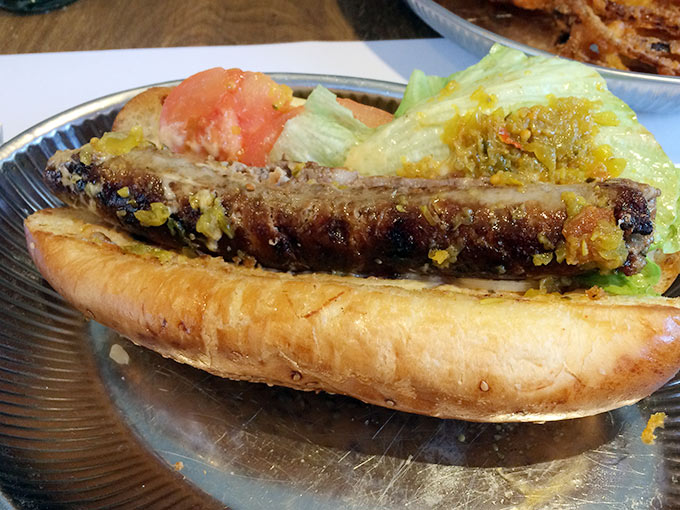 The onion rings were really good if a little salty. The one thing I really enjoyed about them is that they were house-made as opposed to the frozen stuff you typically get elsewhere. So kudos to Vinnie's for going the extra mile!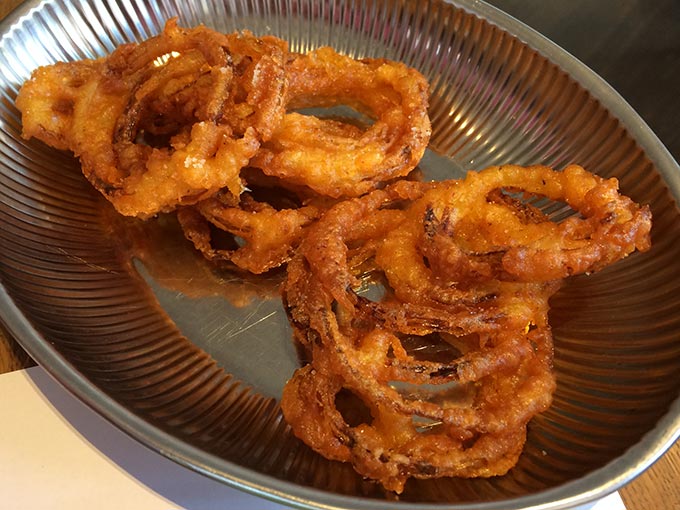 Again, I will mention another detail, but it does make a difference in my book. While Vinnie is clearly trying to establish a diner style atmosphere, somehow the chairs aren't right. The chairs below look like office chairs as opposed to those retro, kitschy chairs you'd typically find in a diner.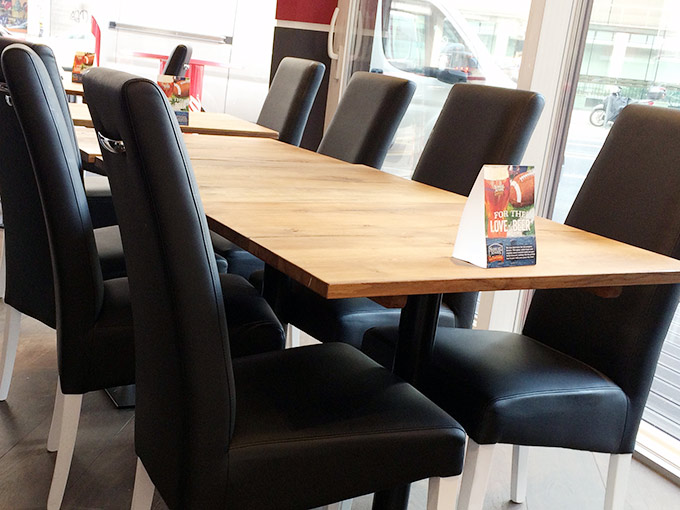 The chair below is the kind of thing I like to see when I walk into a diner. Details, restaurant owners, please pay attention to the details…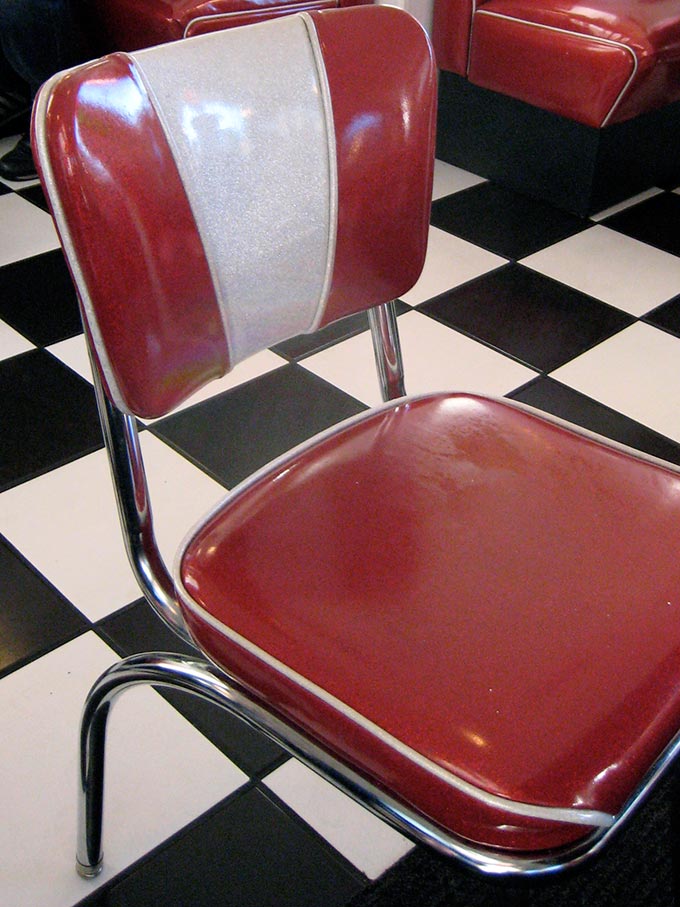 So overall? Definitely passing marks! Vinnie's Café is a step in the right direction beyond the shadow of a doubt. What we need now is a couple more places like this to open so they can all keep each other on their toes. But in the meantime, I'm definitely happy Vinnie's is around. They could definitely step their game up in a couple of ways but this is certainly a good start.