Ann and Nicolas from Studio Rubic recently released a wonderful little Geneva food guide. It features a selection of 16 restaurants the authors are particularly fond of. The book's release was the perfect opportunity to ask Ann what she thought of Geneva's food scene and how she thinks it might evolve. I hope you'll enjoy her answers as much as I did! You can order the book at allonsmanger.ch, and for more information about the project, check out their Facebook page.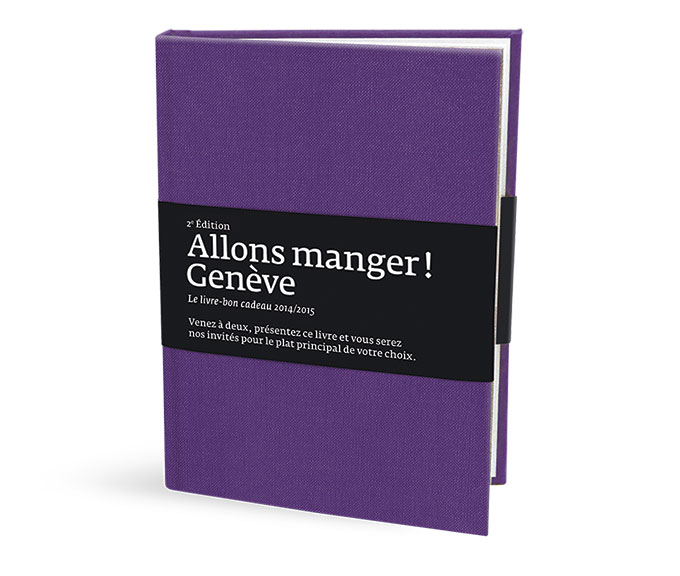 Please briefly introduce yourselves…
We're Ann Griffin and Nicolas Jeanmairet, we are graphic designers and co-founders of Studio Rubic. We just released the third edition of Allons manger, Genève. It's a side project we work on because we love books and food.
Please tell me a little about your experience with food growing up…
We both had Mums who cooked for us, we enjoyed homemade bread and healthy veggies from the garden. Restaurants were only for very special occasions and takeout was nonexistent.
As far as food is concerned, my experience was influenced by my Swiss-German mum and my British dad. But I grew up in Ticino, so Italian and Swiss-Italian influences were also particularly present.
Please describe your favorite breakfast…
Breakfast is not really a meal I make time for, except on Sunday when I'll enjoy a soft-boiled egg with a piece of tresse au beurre.
Of course when in the UK, an occasional fry-up is nice.
What is your go-to comfort food?
Pizza.
What is your favorite cuisine?
La cucina italiana, sempre.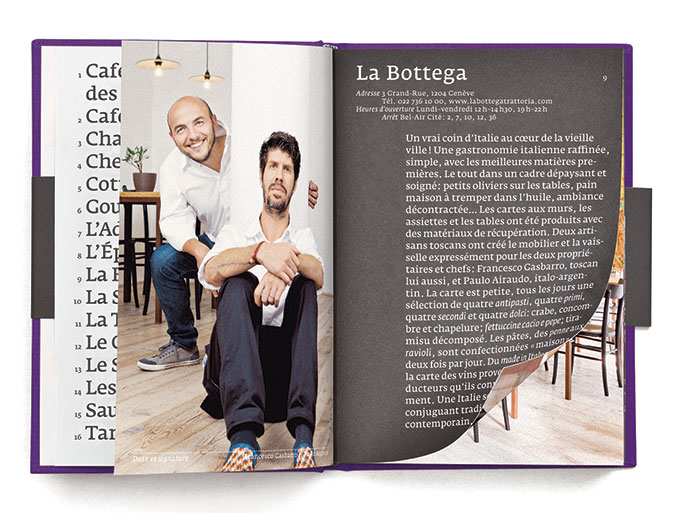 What would you change about Geneva's food scene if you could?
Good question… so much is changing, a couple of years ago there were no food trucks or "cool food places" in Geneva. Now there are lots of new good places. But really good restaurants remain an "evening out" experience, which is good because one makes time for these occasions. Still though, quality establishments do tend to be expensive.
Sometimes I wish there were more mid-range options that served fresh, good food. Places where people could meet for drinks, eat good food and just hang out.
I just spent three months in London where I enjoyed the freedom of eating anywhere, anytime. But eating habits are very different there. In our daily lives here, meals are especially important to us. We always take time to sit down, eat, talk and just be together – the Italian way!
If you were to start your own restaurant or food truck business, what would you do?
I'm not going to say that 🙂
Tell me a little about your book, how did you decide to write this book?
Well, we didn't write it, our friend and fellow foodie, Giada Danesi, wrote it – she holds a PhD in sociology and the anthropology of food.
We decided to do it because it was a once in a lifetime opportunity we just couldn't refuse. We are designers and had no experience whatsoever with these sorts of projects at the time. But we had been designing books for a while and loved going out to restaurants. So for a number of years, with our friend Giada, we had been thinking about a book about restaurants in geneva. When we saw that René Gruninger was publishing beautiful food guides with the Raffinerie in Zurich, we bought a copy and wrote him an email to let him know we thought it was great. We jokingly added he should let us know if he wanted to add Geneva to the list.
A couple of days later we were all eating together in Zurich, and we accepted – I still don't really know why – to do the geneva book ourselves. We have an agreement with him, we share the website and the concept, but we are in charge of the Geneva guide in its entirety, and we are fully responsible for its content.
Was it easy finding a publisher?
We publish, produce, design, distribute, sell and promote the book ourselves. We have two people who produce content for us: the photographer and the writer. We do all the rest.
How did you go about selecting the restaurants featured in the book?
C'est des "coups de coeur" like we explain in the book. There are no rankings, stars, points or anything else. We choose the restaurants ourselves – just the two of us. We go out and eat at a restaurant, if we enjoy the experience and we are sure it would fit our short selection of 16 restaurants, we suggest a partnership. Much attention is given to the overall experience – not just to the food. These have to be places where we feel good, places we would recommend to our friends.
We are convinced that a really nice evening out is about finding the right place for a particular occasion. That means being with the right people in the right atmosphere – more so than eating a great côte de boeuf with amazing wine, when you actually just wanted pizza and a beer.
Are your reviews based on one or several visits?
It depends if we are sure or not. We also listen to our foodie friends, but ultimately, it is always our own judgement that matters.
Is there a country you particularly enjoy visiting for its food culture? If so which one?
Eating while travelling is always very important. Of course, big cities are interesting, but we just went to the south of Italy in September, we had almost forgotten how amazing simple food can be!
What is your overall impression of Geneva's restaurant scene? How does it compare to that of other cities such as Paris, London or New York?
Geneva doesn't really have that international/big city vibe (yet). While there is a lot of really good food here, it's not accessible to all and tends to be mostly offered at high-end establishments.
Also, even though Geneva is very international, good food here tends to come from a tradition of French cuisine, which is great, but sometimes I wish there was more variety and cuisines from other countries – I mean good stuff, quick, fresh… and cheaper!

Do you think Geneva could ever truly be a foodie destination?
Sure! It's one of the cities with the most restaurants per capita, and change is on the way – we have a particularly nice selection in our book 🙂
You're going out to dinner tonight, which of the restaurants featured in your book would you go to? Why?
I love them all for different reasons. Depends on the evening, the people I'd go with, the occasion and the budget.
You're going to celebrate a close friend's birthday and you're looking for a place that offers good, affordable food in a fun atmosphere, where would you go?
A fun atmosphere doesn't really fit our book's selection. Unfortunately, in Geneva "fun/affordable" and "quality" don't really go hand-in-hand.
What do you think of the current food truck trend in Geneva? What are your favorite food trucks in the city?
I'm happy food trucks have finally arrived in Geneva. They are doing well and that is nice. But we don't go out for lunch very often, we therefore don't visit food trucks very often.
Name three of your favorite restaurant dishes? What's so special about them and the restaurants that serve them?
Lamb Tikka Marsala with Nan
Pizza
Sushi
If made properly, they are better at a restaurant than at home.
What are some of the other projects you've been working on recently?
We work on our other design projects, these include other book projects. For more information, check out our website: www.studio-rubic.ch
Are you a good cook? What is your signature dish? Can you please provide a recipe?
We love cooking and we spend lots of time cooking, eating and talking about food. Making jam, veggie stock or chestnut vermicelli from back home. No signature dish and I hate recipes – I'll look stuff up but ultimately I always improvise, that is why I'm not the one making dessert!
What do you think the next big trend should be? More hot dog carts, taco food trucks, better cupcakes, pies, doughnuts, health food…?
They are all great, I'd love some more fish, and some more clean-eating options, people should be able to get healthy/fast/cheap options!
Is there anything else you'd like to add?
Enjoy Allons manger, Genève! It's out now!